But perhaps it was a dose of pragmatism that won the consortium this deal as they identified crucial infrastructure and operational failings and offered to do something about them forthwith, rather than engaging in airy-fairy musings on grand schemes in the distant future.
Bulgaria's Ministry of Transport (MoT) selected the consortium of the Luxembourg-registered asset manager Meridiam, the financier of the deal, and Munich Airport GmbH, who will operate and manage Sofia airport for 35 years under the consortium name 'Sof Connect', following a 90-day tender evaluation. A third party will be Strabag, the Austrian construction firm, which would take on the terminal (re)construction works.
The procedure has been delayed on several occasions having first been called in Jul-2018 and is Bulgaria's second attempt to pick a concessionaire for the country's largest aviation gateway. The first process, launched in 2016 by the previous government of Prime Minister Boiko Borissov, also saw several delays before it was scrapped by a caretaker government in March 2017. Even now opposition socialists are arguing it is against the state's interests to offer the airport on concession. The socialists have made several calls in Parliament for the Cabinet to cancel the tender.
The consortium's bid included whichever is higher of a EUR24.5 million per annum concession fee or 32% of revenue, as well as planned investment of EUR608 million over the term of the concession. Minister for Transportation Rosen Zheliazkov said a contract is expected to be signed shortly.
The decision is a surprise one in some ways, for various reasons. In May-2019 the MoT announced that a Groupe ADP/TAV Airports consortium had offered the highest bid. The operator's offer included an annual concession fee of EUR32.8 million or 42.8% of revenue per annum, whichever was higher, as well as a EUR280 million upfront payment and EUR903 million in infrastructure investments over the term of the contract.
In addition to Groupe ADP/TAV's "highest bid", Manchester Airports Group/Beijing Construction Engineering Group had been considered a frontrunner on the basis of MAG's desire to build up a long-haul network at Sofia, its experience of handling difficult budget airlines and the potential to develop an associated airport city. There bid was much lower (EUR19.9 million per annum concession fee or 26.01% of revenue) but offered a greater investment promise of EUR1.0 billion.
Local media reports suggest that Meridiam and Munich airport offered an ambitious plan for growing Sofia airport's infrastructure and passenger traffic, starting with repairs to the two existing airport terminals and raising passenger numbers to 8.8 million by 2022. In 2018, Sofia Airport handled 6.96 million passengers, an increase of +7.3% but that increase was well down on the previous two years, which were in excess of 20% and 30%.
CHART - Sofia airport last year handled 6.96 million passengers, an increase of +7.3% but that increase was well down on the growth rates of the previous two years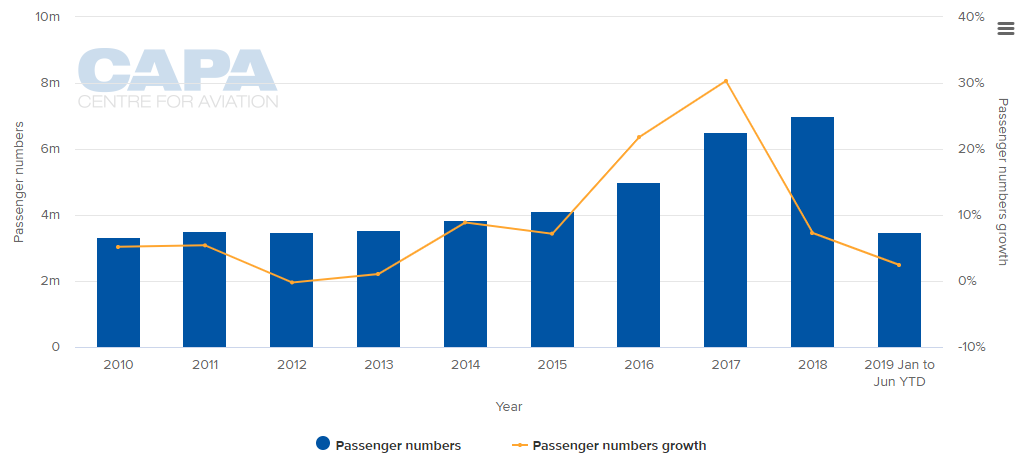 Source: CAPA - Centre for Aviation and Sofia Airport reports
This pragmatic approach to the airport's problems seems to have been decisive. It may be that the more pragmatic need (bringing the two terminals quickly up to scratch), rather than looking too far in the future, won the day.
In the second stage, the consortium plans to build a third terminal and grow passenger numbers to 12.3 million by 2030, followed by two additional expansions of the new terminal, which would increase passenger traffic to 14.5 million by 2035 (at which point Terminal 1 would be reconfigured to handle only cargo) and 18 million by 2040.
Apart from solid traffic growth, the airport this consortium is taking on is characterised by European markets being reasonably well catered for with many capital and major regional cities already served, particularly where Bulgarians have chosen to settle since the country entered the EU in 2007. But, while Sofia is well-linked within Europe, but there is an obvious opportunity to grow links from the Bulgarian capital to medium- and long-haul markets.