But, Karaganda, an industrial city in the north of Kazakhstan and the country's fourth largest, will become more visible for travellers after its Sary-Arka airport won a tender to become FlyArystan's second base. The LCC will drive rapid growth at Karaganda, currently a clearly underserved market handling only slightly more than 200,000 passengers in recent years. This makes it Kazakhstan's eighth largest airport despite being located in the country's fourth largest city.
Air Astana launched FlyArystan at the beginning of May-2019 with two A320s based at Almaty. Almaty-Karaganda is one of FlyArystan's initial six routes and is served with one daily flight.
SEE RELATED REPORT: Air Astana's FlyArystan: Kazakhstan's new low cost option
Following a tender process that resulted in bids from several secondary airports, the new LCC, which is an Air Astana unit rather than subsidiary as it uses the parent's operators certificate, will base one A320 at Karaganda in 2Q2020 followed by a second aircraft in late 2020 or early 2021. With a two aircraft base FlyArystan expects to operate 10 to 12 routes – a mix of domestic and international services.
A network of 10 to 12 routes will have a huge impact on the Karaganda market given the airport currently only has only six year-round passenger routes – four domestic and two international. Russia is likely the first international market for FlyArystan – from Karaganda as well as Almaty. Karaganda is currently served from Moscow by Aeroflot and IrAero as well as from Novosibirsk by S7 Airlines.
Karaganda also has limited seasonal services (summer only) to Minsk in Belarus by Belavia and to Antalya in Turkey by AtlasGlobal. It does not have any international services from Kazakhstan carriers and only has two domestic operators. SCAT, Kazakhstan's second largest airline, competes against FlyArystan on Karaganda-Almaty and also operates to Kyzylorda and Oskemen. Both are among the 10 largest cities in Kazakhstan but are smaller than Karaganda.
Air Astana had previously served Almaty-Karaganda but dropped the route when FlyArystan commenced operations on 1-May-2019. FlyArystan is operating the same number of frequencies to Karaganda as Air Astana (seven per week) but is already carrying around twice as many passengers.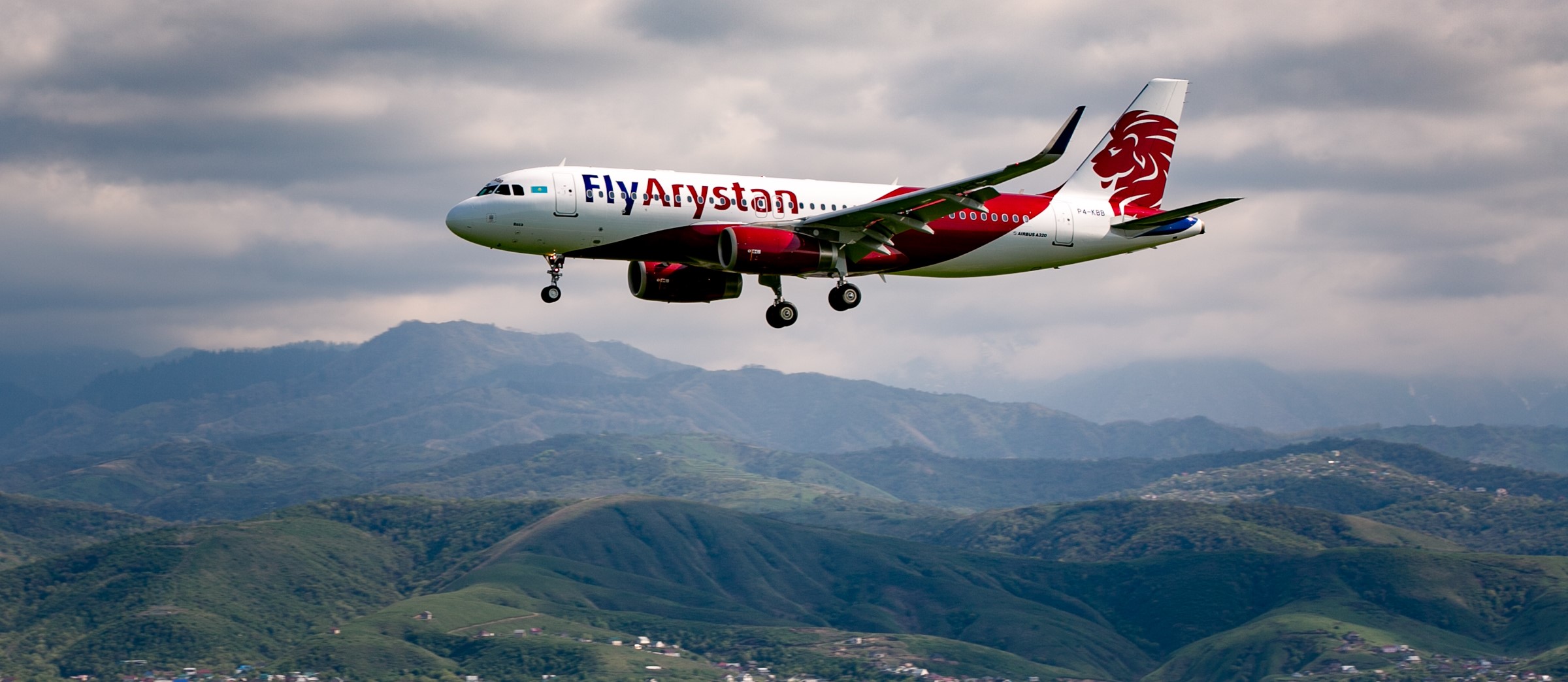 Air Astana mainly served Karaganda with two class Embraer E190s while FlyArystan operates all economy A320s. FlyArystan also has a much higher load factor – 94% in its first three months of operations, including 93% on the Almaty-Karaganda route – while Air Astana's system-wide annual load factor has traditionally been in the 60%s.
Karaganda reported a +67% increase in passenger traffic in May-2019, the first month of FlyArystan serving the airport instead of Air Astana. Traffic in Jun-2019 was up a more modest but still significant +38%; June has more international flights by foreign airlines than May, impacting the total figure.
Karaganda has a population of around 500,000 and a low 0.5 flights per capita given its passenger traffic prior to FlyArystan's arrival. With low fare stimulation several new domestic routes should be viable including Shymkent, Aktobe and Taraz as well as several new international routes to neighbouring Russia (and potentially elsewhere).
Kazakhstan's Nur-Sultan capital city is only 200km by road from Karaganda, making an air service unlikely. However, the proximity to Nur-Sultan provides FlyArystan with an opportunity with the right network and fares to attract Karaganda residents who are now driving to Nur-Sultan airport.
Air Astana will likely use FlyArystan to launch new unserved point to point domestic and international routes from Karaganda and subsequently other regional bases. In Almaty the focus is on a combination of route transfers (such as Almaty-Karaganda), new routes (such as Almaty-Taraz) and supplementing Air Astana on thick routes (such as Almaty-Nur Sultan).
Another wave of Almaty expansion is likely later this year as FlyArystan adds another two A320s. Several other regional bases will be opened by 2023, when the new LCC expects to have a fleet of 15 aircraft.