In the meantime it has a shortlist of six French airports that are currently under consideration for a new operational base for winter 2018/2019, including its busiest point in the country at Beauvais Tillé Airport, a charter and LCC alternative for Paris, and Marseille-Provence Airport, a former Ryanair base. The other four comprise Bordeaux Mérignac, Nantes Atlantique and Toulouse Blagnac airports, all existing Ryanair markets, plus Lyon Saint Exupéry, a potential new market for the carrier.
While the budget airline has a significant penetration across numerous European markets, The Blue Swan Daily analysis highlights that it has only a 5.0% share of the current winter schedule capacity in France, despite growing its offering 7.0% versus winter 2016/2017.
It is still the third largest operator in the country behind the heavily dominant Air France (33.0% share of system seats) and easyJet (10.8% share), which is more than double its size in the country. This is in line with its winter position in previous years, although its capacity share does historically rise in the summer period, reaching a high of 7.1% in summer 2013.
CHART – Ryanair's activity in the France has fluctuated over the past decade, but its current winter schedule is its largest and it will expand further in winter 2018/2019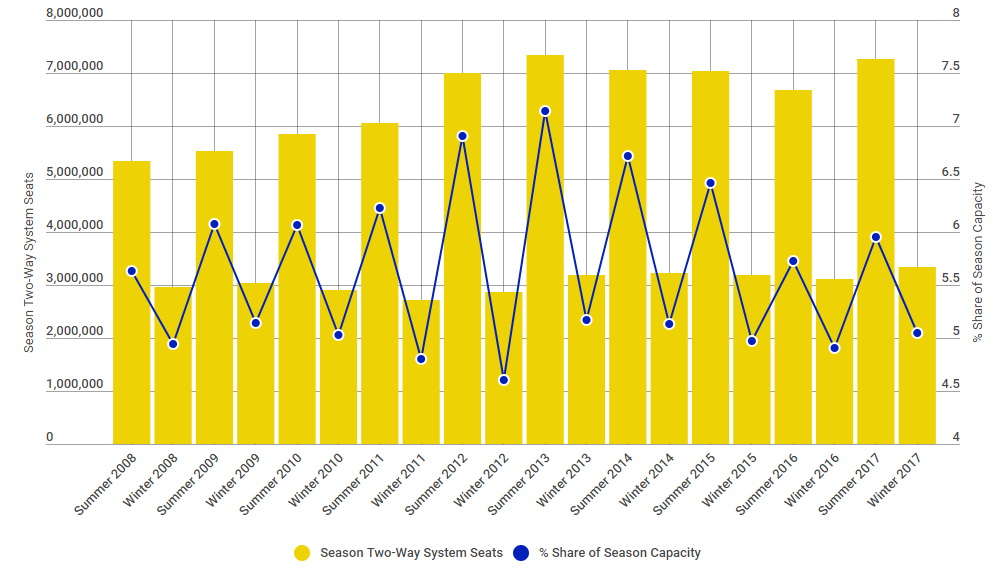 Source: The Blue Swan Daily and OAG
Despite the obvious strong demand in France, the country was only the eighth largest market for Ryanair operations in 2017 behind Italy, United Kingdom, Spain, Germany, Republic of Ireland, Poland and Portugal. In fact, the airline offered around five times the capacity in the top three markets of Italy, the UK and Spain as it did out of France, where there were just under 11 million annual system seats.
There is certainly room to grow for the airline in a market where it has been reluctant to expand due to labour restrictions. While Ryanair expects to establish up to four bases in the country by 2020, the big question is which of the six contender airports looks most likely to house its first of these?
The airline has already announced plans to introduce more than 20 weekly international services from France in winter 2018/2019, including flights from Beauvais to Bratislava, Malta, Prague and Thessaloniki; from Marseille to Bucharest, Budapest and Faro; from Nantes to London Stansted and Seville; and from Bordeaux to Valencia.
It confirms it has met "with a number of French airports in Paris" to discuss possible Ryanair bases at "a number of regional airports" and continues to "engage with workers committees /unions to discuss new bases". Ryanair currently serves over 30 destinations in France with over 5.4 million departure seats in 2017, up +6.0% on 2016 and its largest annual schedule since 2013.
CHART - Ryanair is considering its four largest French network points for its new winter 2018/2019 base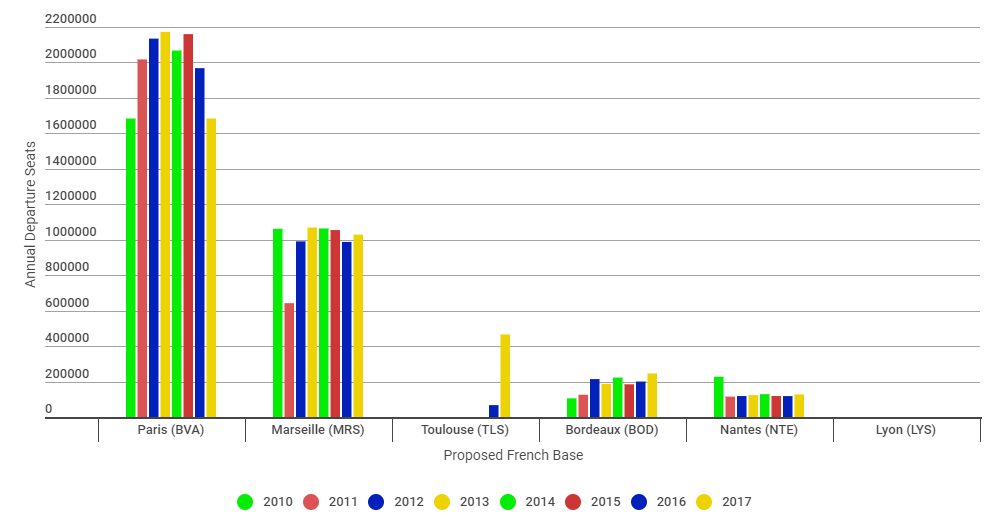 Source: The Blue Swan Daily and OAG
The Blue Swan Daily analysis of Ryanair's current activities shows that Beauvais is its largest point in the country and actually among the largest non-based destination in its network (ranked number 18 in terms of departure capacity last year). But, capacity was at its lowest level since the start of the decade and down over a fifth (-22.5%) on the peak year (2013). The airline may feel a base and the improved scheduling it could offer, could reverse that decline and deliver alternative market options.
Its former base of Marseille-Provence Airport is Ryanair's second largest French operation and it returned to growth with a +4.2% capacity rise in 2017. It is currently the second largest operator and challenging Air France and its regional partners.
Toulouse Blagnac Airport could be an attractive proposition for Ryanair and a market where it is growing fast. It only started flights there in 2016, but has already established the southern market as its third largest point in France. Growth is also being seen at Bordeaux Mérignac, its fourth largest market, where annual capacity has grown for the last two consecutive years and is now at its highest level this decade.
Ryanair has a smaller presence at Nantes Atlantique Airport and is only the seventh largest operator based on this week's schedules, albeit it reported capacity growth of +7.9% last year. Meanwhile, Lyon Saint Exupéry Airport would represent a trip into the unknown and a market not currently served by the airline. It is a market where Air France's regional operator Hop! has the largest presence ahead of easyJet.