---
Summary:
British holidaymakers appear oblivious to potential Brexit travel concerns, according to research from Spanish data specialist ForwardKeys;
Its insights show forward air bookings by Brits for 2019 summer to EU destinations are actually ahead +5.7% compared to the same point last year;
Across the first ten months of 2018 outbound travel from the UK grew by +3.2% with non-EU destinations the fastest growing markets, says ForwardKeys.
---
The new research from ForwardKeys – which analyses more than 17 million booking transactions a day – shows that, as of the beginning of Oct-2018, forward air bookings by Brits for 2019 summer (defined as April-2019 to September-2019) to EU destinations are actually ahead by +5.7% compared to the same point last year. This does point a positive picture, and follows year-on-year trends, but interestingly British bookings to destinations beyond the EU are currently +28.5%, according to the Valencia-based company, versus just +4.3% this time last year.
"Looking at trends in the UK outbound market, the best description is 'business as usual' or if anything, the future looks brighter!" explains Olivier Ponti, VP insights, ForwardKeys. Its analysis for the 2018 summer holiday season (Apr-Sept), shows over a quarter (28%) of trips by British travellers to the EU were booked more than six months in advance, with 32% booked during the first quarter of the year and 40% booked during the season itself.
Therefore, whilst it is effectively too early in the booking cycle to accurately predict reliably how good the holiday season will be, the ForwardKeys data does show that initial indications are positive. "We do not see anything much in the data to confirm a 'Brexit effect' on people's booking behaviour for EU destinations currently," says Mr Ponti.
However, he adds that with January traditionally a very important month for holiday bookings, "if there is still no Brexit deal by then and consumers start panicking, the outlook could rapidly start to look very different".
Looking back on the first ten months of the year through to Oct-2018, the ForwardKeys research shows outbound travel from the UK grew by +3.2%. Besides the World Cup in Russia, which attracted many British soccer fans, the winning destinations were in the eastern Mediterranean and north Africa, it says.
"Those destinations that were troubled by security fears, terror attacks, and UK Government travel bans three years ago are, at last, growing again in 2018," it says with Tunisia, Egypt and Turkey all registering impressive growth rates and a gain in market shares at the expense of Spain, Portugal and, to a lesser extent, Italy. Interestingly, against the Brexit backdrop, the fastest growing destinations for British travellers so far in 2018 are all non-EU countries.
It is currently impossible to compare summer 2018 and planned summer 2019 flight schedules from the UK as not all flights are currently loaded for distribution. Based on current published schedules from OAG the summer 2019 schedule from the UK down a quarter versus the recently completed summer 2018 offering.
CHART - Unsurprisingly, European Union nations dominated the largest international markets from the United Kingdom by capacity in summer 2018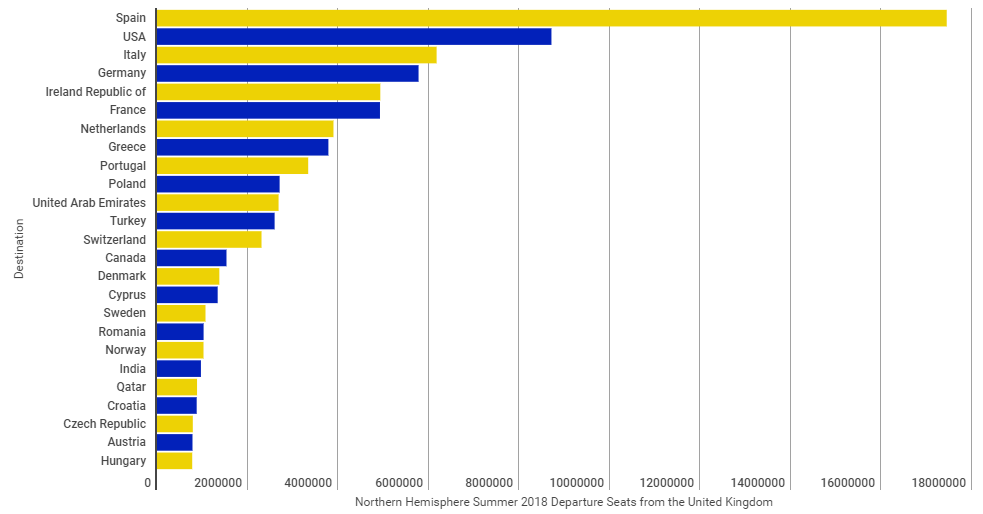 Source: The Blue Swan Daily and OAG