This is a differing fleet tale of the two leading UAE carriers perfectly sums up their mixed fortunes of the past year – Etihad has been impacted by an European airline investment strategy that has already seen one business fail, while another sits on the brink of collapse, while Emirates continues to invest in new aircraft.
This investment includes a USD150 million refurbishment of its ten 777-200LRs, the first of which returned to passenger service on 06-Mar-2018 on its Dubai International – Fort Lauderdale Hollywood International route. Like the larger 777-300ER on which its new cabin configuration made its debut last year, the arrangement includes a new business class concept offering wider seats laid out in a 2-2-2 configuration.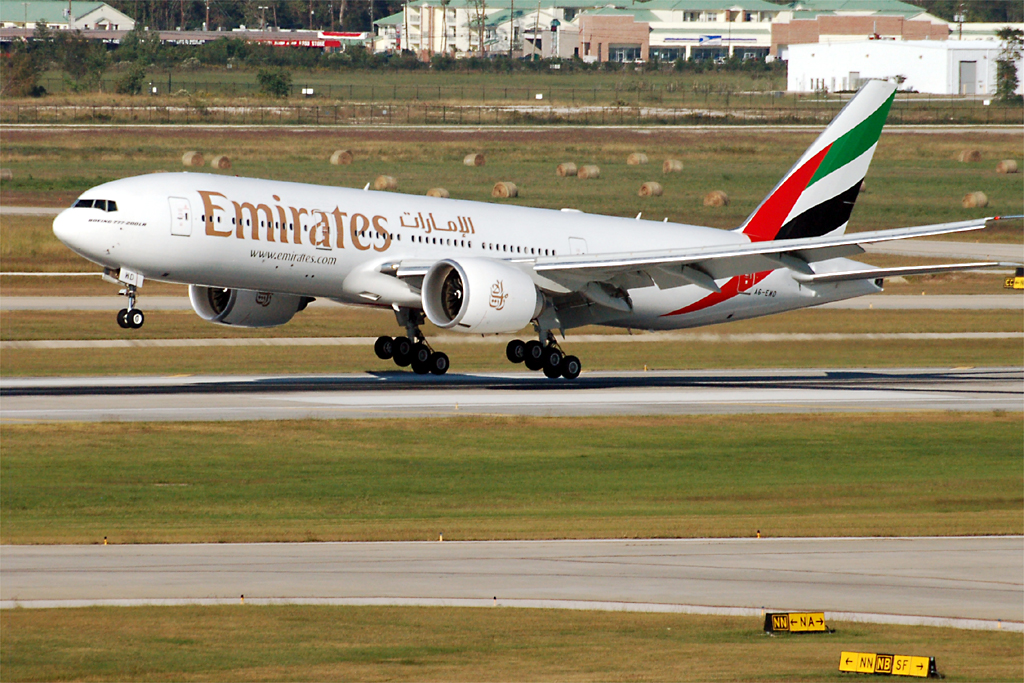 The newly refurbished Emirates 777-200LR aircraft are set in a two-class configuration which offers 38 business class and 264 economy seats. While the business class seats are in the same design and shape of Emirates' latest lie-flat seats, they are now two inches wider for a more comfortable journey on some of the longer missions scheduled for the 777-200LR.
While Emirates does use the type on some of its longest-routes, most notably down to Sao Paulo in Brazil and a route that from Jul-2018 will also be linked to Santiago, Chile, the 777-200LR is actually currently scheduled to serve mainly medium-haul markets, where perhaps its capacity is more appropriate than its range. This includes regular flights into India with Ahmedabad actually its most frequency served point on the Emirates network, according to OAG schedule data.
In the case of Etihad, its five 777-200LRs acquired from Air India will follow the recent departure of the A340 out of its fleet, and with its A330-200Fs also a casualty of a revised fleet renewal strategy, it could also be quickly followed by the passenger version of the Airbus model. According to the CAPA – Centre for Aviation Fleet Database two of the airline's 777-200LRs have already been retired and are stored at Spain's Teruel Airport.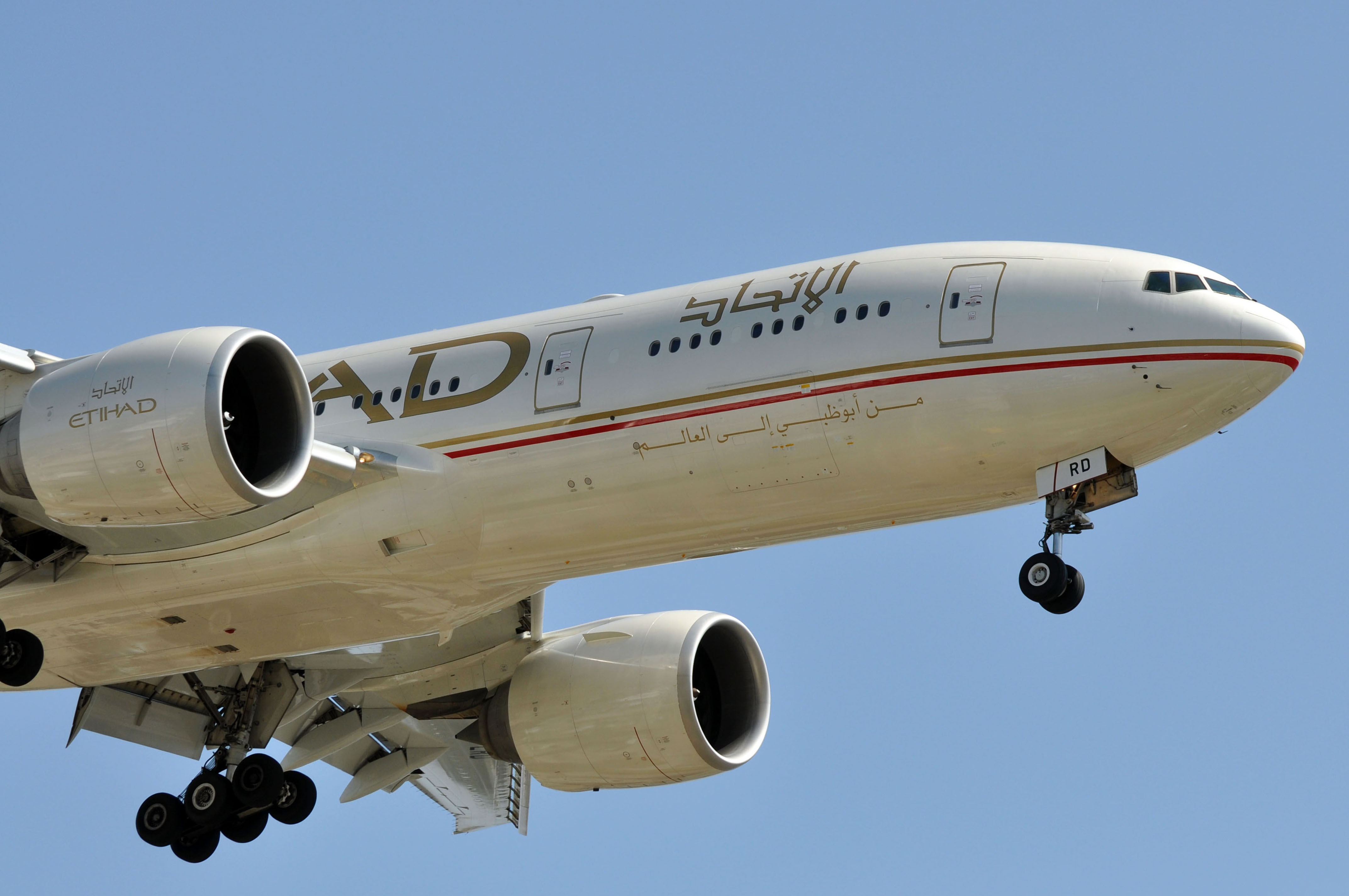 The Blue Swan Daily was the first to reveal about the departure of the 777-200LR from the Etihad fleet when it ran a story back in Nov-2017 on the forthcoming termination of the airline's Abu Dhabi – Dallas/Fort Worth International route later this month, a route that is flown using the aircraft. Etihad ends that service from 25-Mar-2018 due to the route becoming "commercially unsustainable following American Airlines' unilateral decision to terminate its codeshare agreement".
Having already outlined plans to switched its daily Abu Dhabi – Los Angeles route from a 777-200LR to a larger 777-300ER from 15-Jan-2018, The Blue Swan Daily reported the network changes suggested a move "to the removal of the long-range 777-200LR sub-fleet from Etihad operation".
The CAPA Fleet Database lists more than 50 777-200LR aircraft currently active. Delta Air Lines and Emirates Airline are the largest operators of the type, just ahead of Qatar Airways, with examples also being deployed by among others Ethiopian Airlines, Air Canada and Turkmenistan Airlines, Air India and Pakistan International Airlines.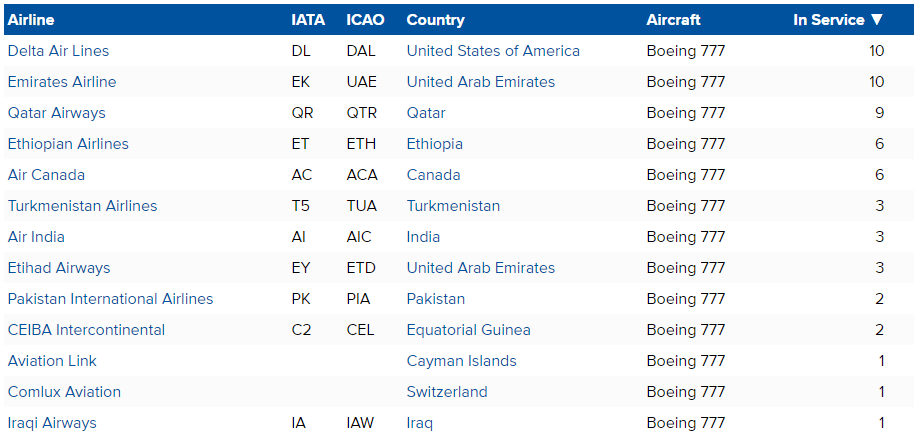 Source: CAPA – Centre for Aviation Fleet Database