It did so directly as a result of a decision by Ryanair, which had around 70% of the traffic at Moss Rygge, to withdraw from the airport as result of the introduction of a new Norwegian air passenger tax. Comparable concerns exist in neighbouring Sweden right now as similar tax is to be introduced there. The few remaining services operated by Norwegian were not considered adequate to sustain the airport's commercial operations. Most of the passengers were travelling for leisure purposes.
It is hoped the airport might reopen commercially in 2019 but another increase in the tax may well put paid to that.
CHART - An airport flatlines – traffic at Oslo Moss Rygge Airport had consistently exceeded 100,000 monthly passengers until Nov-2016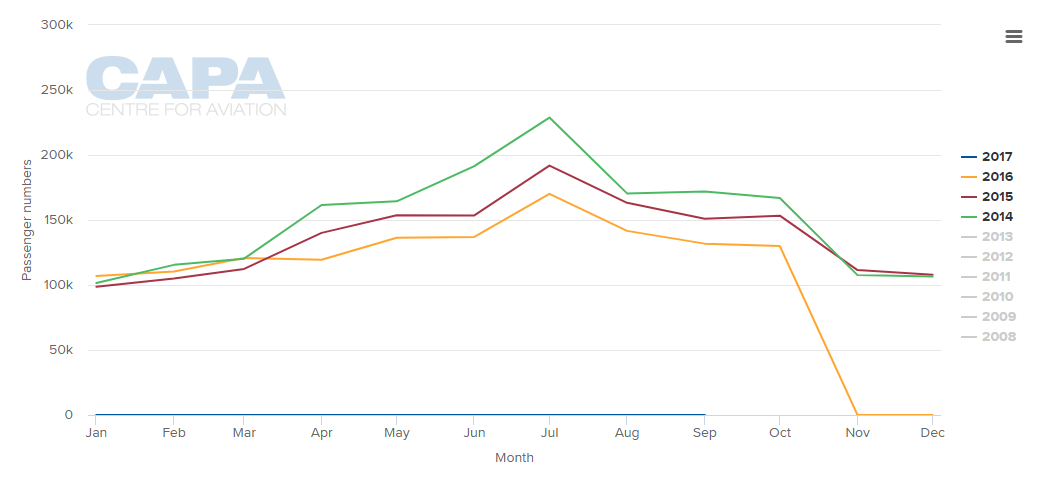 Source: CAPA - Centre for Aviation and Oslo Moss Rygge reports
Moss Rygge was a rare example of public-private sector co-operation in a country where most of the airports are operated by the state through Avinor. Its owners have included Copenhagen Airport, the Thon Group, the Orkla Group, Østfold Energi and the Østfold County Municipality.
In Apr-2017, six months after the airport closed, it was acquired from the latter four of these entities by a private equity firm, Jotunfjell Partners, who expressed a desire to reopen it (Private Equity does not exist for social reasons, it exists to make a healthy profit, quickly) but it may be thwarted.
The opening of the Moss Rygge Airport, in 2007, can be traced back to the location of the new Oslo Airport at Gardermoen, to the north of Oslo, in 1998, meaning that areas to the south would be further away than they had been from Fornebu, the capital's previous main airport.
It was not the only one to benefit from that decision. Sandefjord Torp Airport, now known as Oslo Sandefjord Airport, and at 120 km twice as far from Oslo as is Moss Rygge, has hosted commercial services since the 1960s but was expanded considerably in 1997 when Ryanair became the first LCC to fly from there (its services at Moss Rygge came later of course, in 2010).
Oslo Sandefjord is also a public-private airport but oriented more towards the public sector (two local and one county [Vestfold]) municipalities).
The reason why these two "Oslo" airports co-existed for a while is evident from the map below, on which Sandefjord is highlighted, across the Oslofjord from Moss and Rygge, to the northeast. There are few ferries across that fjord, which effectively splits Østfold and Vestfold into separate communities as their 'east' and 'west' names suggest.
MAP - Although a modern town today, Sandefjord was one of the most famous stamping grounds of the Vikings in the Middle Ages. A former whaling capital of the world it was once the richest city in Norway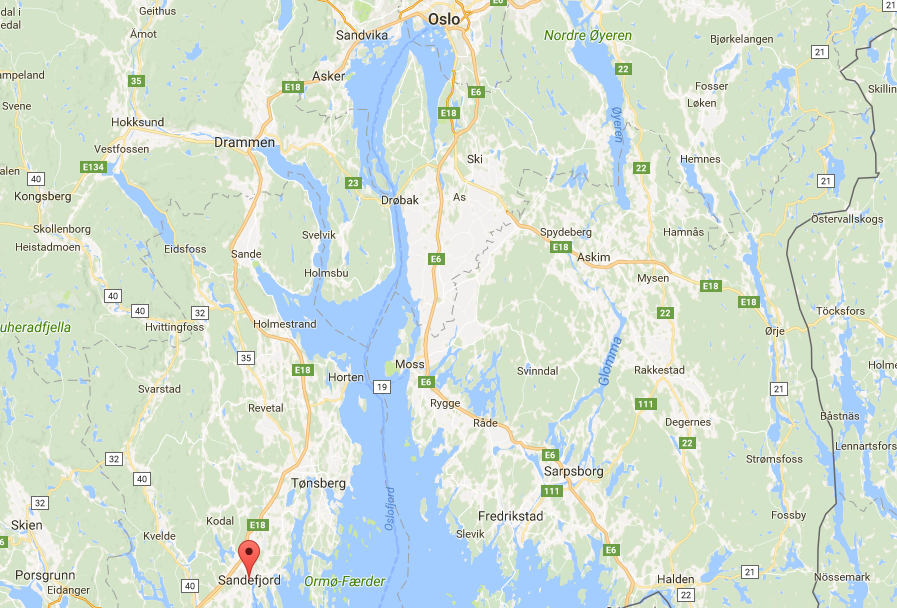 Source: Google Maps
Moss Rygge is around 50 minutes by train to Oslo, from a rail station four kilometres from the airport; a typical figure for a secondary airport served by Ryanair. Oslo Sandefjord has a rail station at the same distance from the airport but the travel time to Oslo is 1 hr 50 minutes.
After closing its operations at Moss Rygge, cancelling 16 routes there, Ryanair shifted eight of them to Sandefjord and two to Gardermoen, a primary airport it is slowly getting to grips with (and vice versa; Avinor had been wary of Ryanair's projected presence there previously but has relaxed its stance since a terminal extension opened earlier this year).
CHART - Ryanair does not have the same degree of dominance at Sandefjord as it had at Moss Rygge. Even with the transfer of routes it is still behind Widerøe and more pertinently its rival Wizz Air in terms of seat capacity for week commencing 06-Nov-2017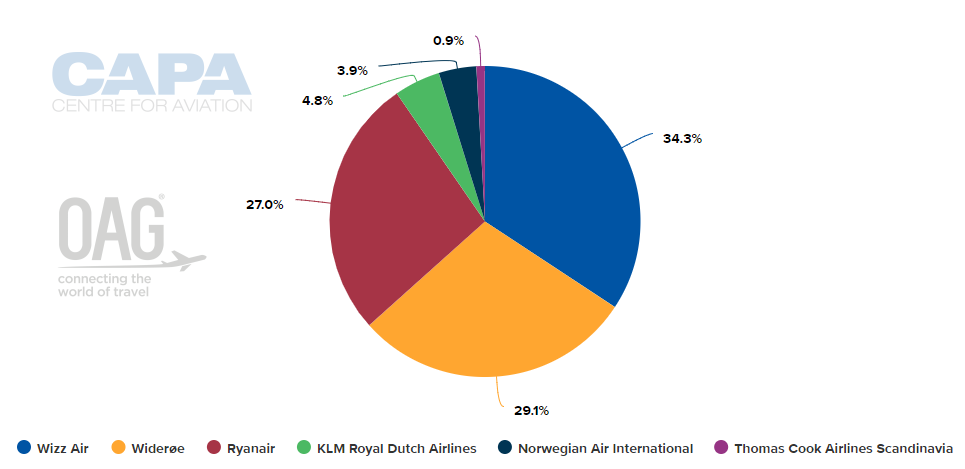 Source: CAPA - Centre for Aviation and OAG
As for who has been the winner in this, there are several ways of looking at that. It is most certainly not the inhabitants of the Østfold area, who now, again, face a long journey to Gardermoen for a flight unless they have the means to traverse the Oslofjord to Sandefjord, or the time to drive around it. The new owners of Moss Rygge aren't either.
The traffic figures are insightful. Oslo Sandefjord reports that traffic increased by 60.3% year-on-year in Oct-2017. And the annual increase – bearing in mind there was a reduction of 5.7% in 2016 – is a staggering 39.8% in the period Jan to Sep-2017.
Whether Ryanair is a winner depends on whether that additional traffic at Sandefjord is coming its way. As the Irish airline will handle over 600,000 passengers there in 2017 on current projections it looks as if it is. (It handled eight million from 1997 to 2016, an average of 420,000 per annum).
CHART - After a couple of years of declines, passenger numbers at Oslo Sandefjord Airport are booming in 2017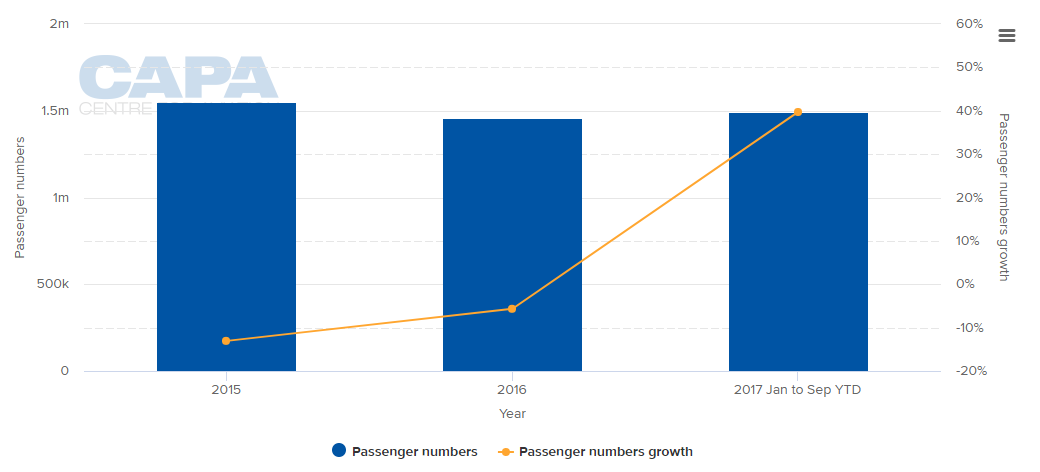 Source: CAPA - Centre for Aviation and Avinor
In the case of Gardermoen, there is a noticeable increase in passenger traffic there as well, with growth of 7.2% in the period Jan to Sep-2017 though the Moss Rygge closure will have played only a moderate role as will that of the inauguration of Ryanair services at Gardermoen – it has only 1.4% of seat capacity. While a further extension to the terminal is under consideration it will be for the handling of A380s, not Ryanair 737s.
CHART: Passenger traffic at Oslo Gardermoen Airport, the largest gateway into the Norwegian capital has shown healthy year-on-year rises since 2015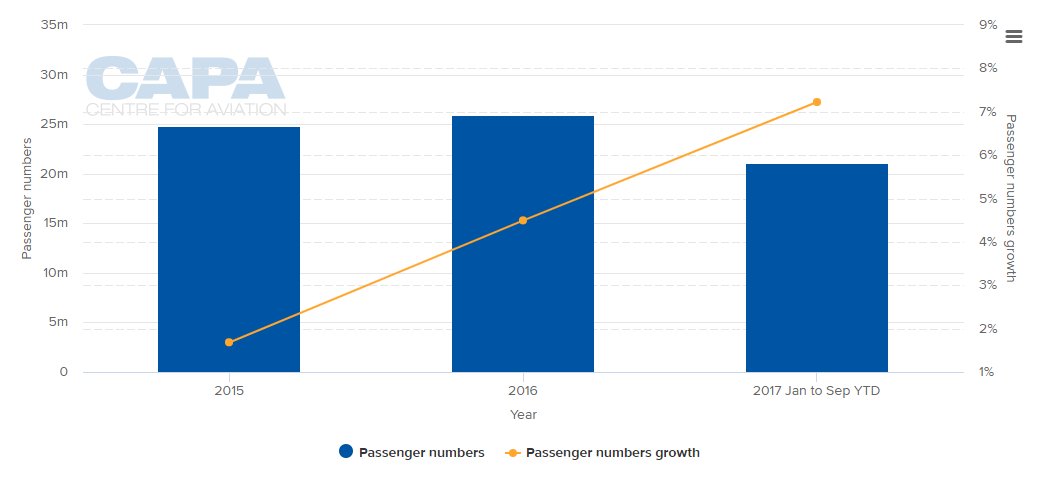 Source: CAPA - Centre for Aviation and Avinor
The Blue Swan Daily insight suggests the biggest winner in this case is probably Sandefjord Airport, with some small benefits accruing to Gardermoen, while the big losers are quite clearly the large swathes of the population to the south of Oslo.