It's a bit like your friendly supermarket selling tomatoes for the same price, but adding on a bit at the till to cover the increase in fuel costs incurred by their road hauliers.
There's always a reluctance to be the first mover when prices go up, but once an airline does so, you can bet there'll be a rush to follow. So, the question for the moment is who'll bite the bullet first? And will it be the more price sensitive LCC sector, or full service airlines?
One of the nastier sides to it can be that the "surcharge" is sometimes added onto fares already booked and paid for, on the basis that fuel costs have gone up in the meantime. They also happily pop up when frequent flyer points are redeemed.
There's a good reason for imposing "fuel surcharges" instead of increasing fares
Over the past three or four years, airlines have shared the benefits of lower fuel prices with travellers. The result has been a sweet outcome that airlines have generally made higher profits and their customers have paid less.
As a result, many travellers have been encouraged to fly when previously they wouldn't have – that is, either entirely new customers or existing flyers who take some additional trips. This generated higher traffic growth, but also created a more price sensitive market profile.
That means that if fares go up quickly, the highly price sensitive tip of the iceberg will go away – that growth will disappear.
So, airlines have two basic choices: either forgo profits or risk losing passengers. The third and more likely possibility is a bit of both, as well as raising prices/surcharges more steeply for the less price sensitive end of the market, business and corporate travellers. That way the acres of seats down the back can still be filled. Meanwhile, the headline fares can remain the same. And the fuel surcharge becomes just another ancillary, like paying for an extra bag or a meal; except that this one isn't optional.
Where will fuel prices go?
After a nice long period of low oil prices, the cost of a barrel of Brent Crude oil went through USD75 last week, as fears of a Trump-inspired renunciation of the Iran nuclear deal pushed the rise (that's due by 12-May-2018). Right now, despite the overwhelming logic of keeping the deal in place, President Trump seems likely to play to his base supporters, despite the efforts of President Macron and Chancellor Merkel. The market fears that would cause Iran's oil exports to dry up.
To put the price in perspective, IATA's Nov-2017 industry profit projections for 2018 were based on a level of USD60 for fuel. That was the industry consensus at the time. Not any more.

Source: CAPA - Centre for Aviation and oil markets
There are other forces at play of course, like general instability in the Middle East, Venezuela and elsewhere. The experts say oil now has a natural cap at around USD70 since the US' large new supplies of oil are commercial just below that level. But when it comes to oil prices "experts" don't have a great track record. Despite increased production, that hasn't been able to stop the increases yet.
Two years ago, Brent was USD50 per barrel cheaper. That tripling of prices hurts airline cost in a big way. A strengthening US dollar only adds to the cost pain, particularly for any airline whose revenues are not in USD.
Hedging will provide temporary relief – for some airlines, but not all
In 2016, when the oil price was down in the USD30s per barrel range, some airlines took the opportunity to hedge against future increases, some didn't. The large US airlines mostly didn't, hence un-hedged American Airlines announcing recently that its its 1Q2018 fuel costs rose by 26% and projected its full year fuel cost will rise by USD2.3 billion. Someone has to pay for that if the airline is to maintain its profit levels. It helps explain why American's share price is down more than 15% in the past month.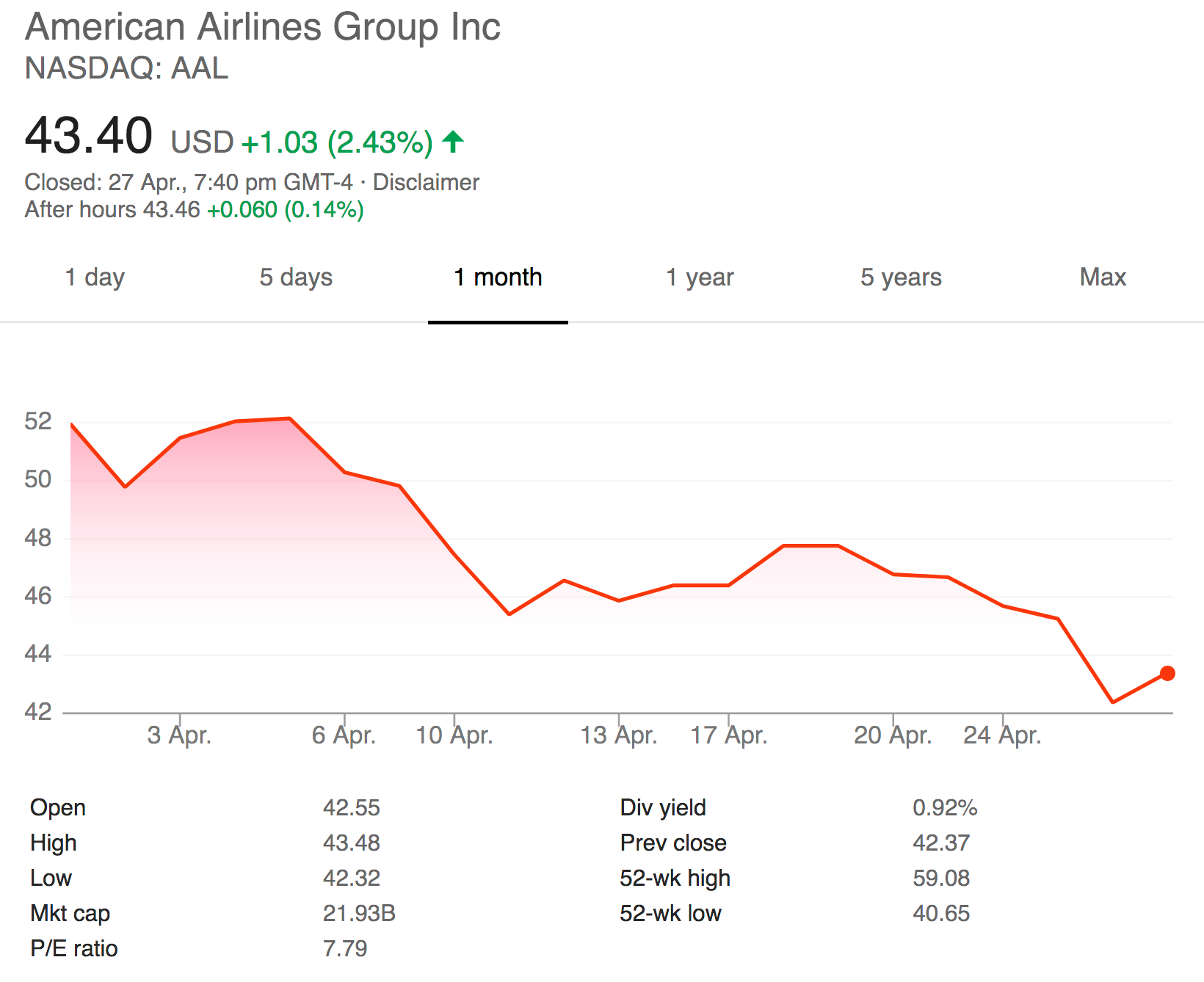 Unless Brent Crude descends from its present levels, like death and taxes, we can rely on the return of fuel surcharges. The only uncertainty is who's on first?