Switzerland's Federal Supreme Court recently rejected opposition related to noise nuisances emanating from Bern Belp's fourth stage of expansion at the end of 2017, with the decision expected to encourage interest from potential investors, according to Mr Brechbühl. Airport infrastructure expansion is expected to require investment of CHF17.7 million (EUR15 million) up to 2022, with projects including construction of small and general aviation hangars, taxiways, parking areas and a new centre for business aviation.
Switzerland is possibly unique in that its capital city has such a small and relatively insignificant airport. But Bern (e) is the de facto capital, chosen as a compromise because in a country where there are four official languages the Swiss French objected to Zurich, which was awarded a prestigious university in compensation. The country has 26 independent cantons with much power of their own and Bern acts as the Federal capital.
It is a small city with a population of less than 150,000 (but with a metropolitan region that is four times larger), not dissimilar to that of Reykjavik in Iceland, which has a massively greater impact on aviation.
Indeed, Bern Belp Airport handled less than 183,300 passengers in 2016 (-3.5%) and out of 3,833 airports globally ranked only 2012th for seat capacity, 1913th for ASKs, 1830th for frequencies and 1837th for its cargo payload. There are just seven passenger destinations, all of them in Europe.
MAP - Bern is the fourth-most populous city in Switzerland, but is the de facto capital of the country, referred to as their Bundesstadt or 'federal city'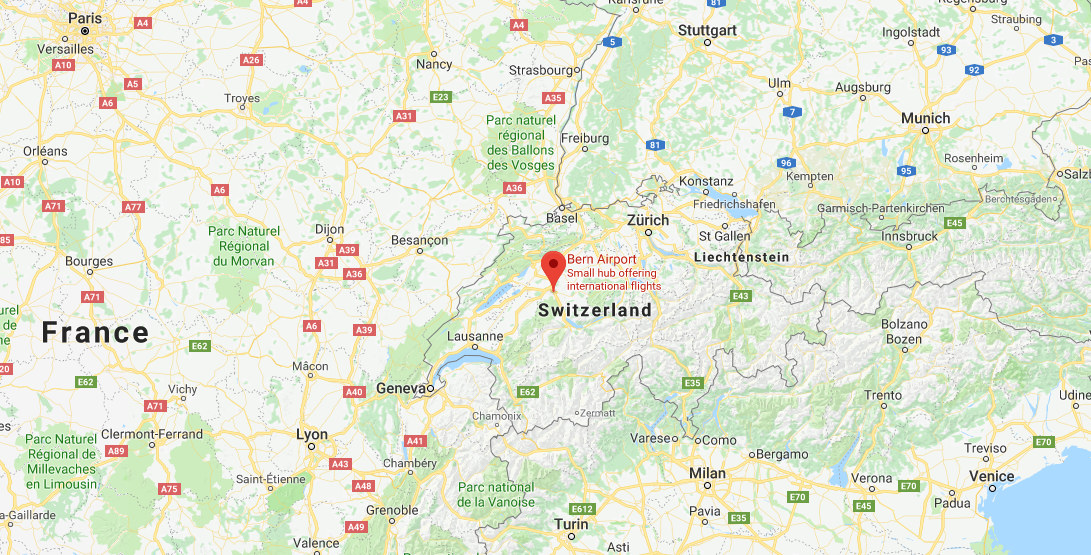 Source: Google Maps
As the map above shows Bern is in close proximity to major primary airports such as Zurich and Geneva (125 km and 160 km respectively), which in 2017 hosted 29.4 million and 17.3 million passengers. It is closer still (100 km) to the pan-national Euroairport centred on Basle, and which handled just less than eight million passengers in 2017. Furthermore, all three act as hubs, especially Zurich and Geneva, and all forms of business model are catered for. While Swiss is by far the largest carrier/hub operator at Zurich, easyJet dominates at Geneva and Wizz Air at Euroairport.
By definition Bern Belp is a niche airport. It's only carrier presently is SkyWork Airlines, a scheduled and charter operator with a fleet of seven aircraft; four Saab 2000s and three Dornier 328s (Helvetic Air operates charters during the summer). The SkyWork fleet provides critical links to cities in Germany (Munich, Hamburg, Berlin), Austria (Vienna), the Netherlands (Amsterdam) and the UK (London City); all of them representing critical commercial centres and/or hub airports. Bern is in no way cut-off, even with so few services.
MAP - Bern Belp Airport's route network is dominated by key European business destinations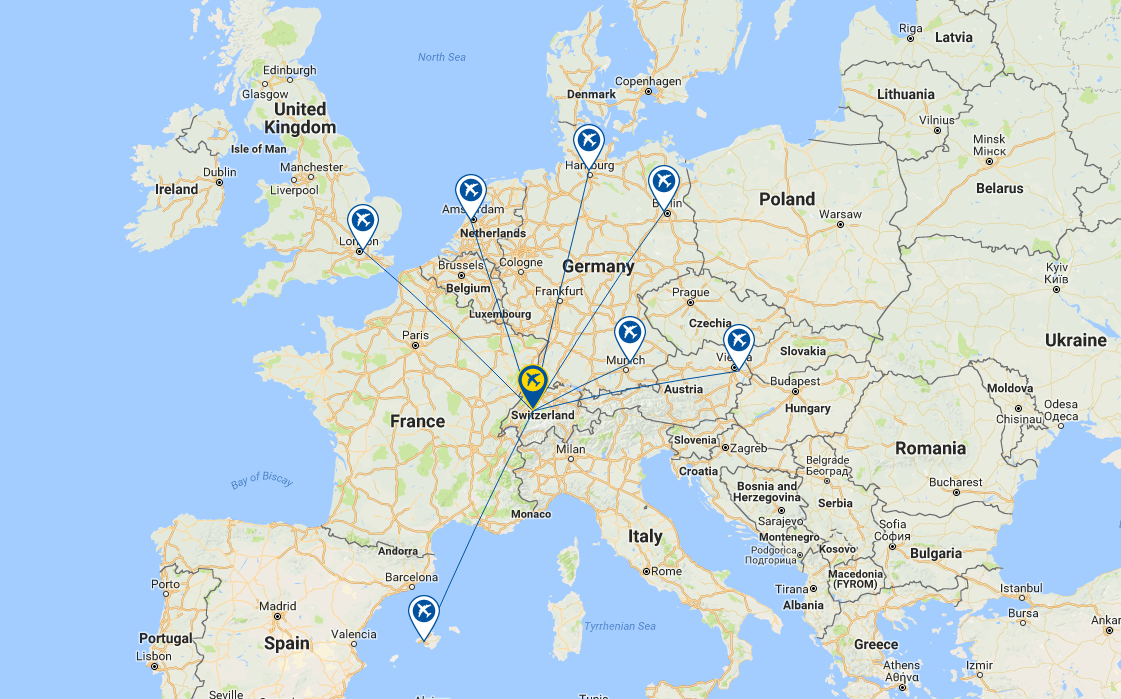 Source: CAPA – Centre for Aviation and OAG (data: w/c 12-Feb-2018)
And that is important. While Bern is not as significant a home to the finance industry as are Zurich and Geneva it is still noteworthy enough to merit direct air connections with cities such as Amsterdam and London. The city after all was the original home of the Bern Union, which supports the global export credit and investment insurance industry, even if it no longer meets there, and 8% of the workforce is employed in those industries.
In recent years the airport lost its bmi regional services, which competed with SkyWork Airlines, and it is becoming evident that its future may lie more with general aviation and business jet services. The majority of the envisaged expansion is within that arena.
As for attracting investment, that is not likely to be difficult in a country with a good track record for airport privatisation. The airport has a healthy mix of public and private sectors as it is and Flughafen Zurich was one of the first to be floated on a stock exchange, back in 2000. Not that a flotation would be appropriate in this case of course.
CHART - Bern Belp Airport is majority controlled by local business interests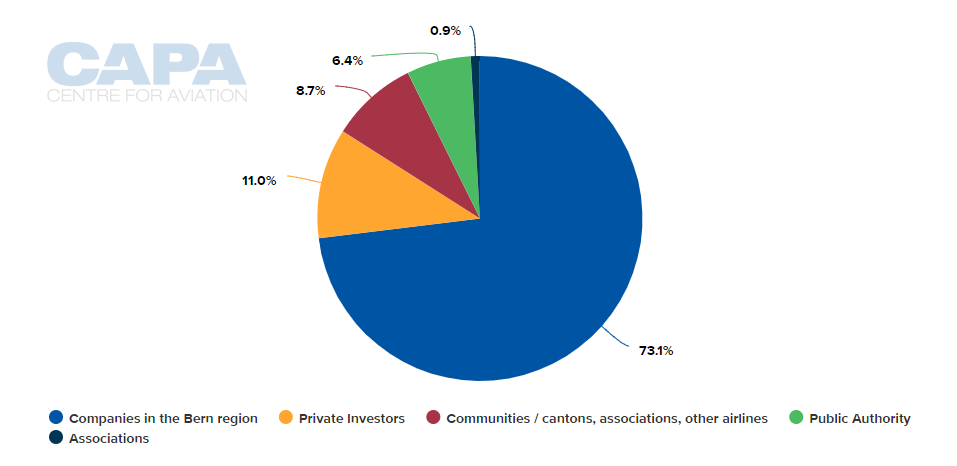 Source: CAPA - Centre for Aviation (as at 22-Jan-2018)