The state of the Australian economy is not a reason for external disinterest, at least not yet. For nearly two decades up till 2017, Australia benefited from a dramatic surge in trade and the economy experienced continuous growth: there was low unemployment, inflation was contained, there was very low public debt, and a strong and stable financial system.
However, since 2018 the country has faced a range of growth constraints, mainly driven by the sharp fall in global prices of key export commodities. Demand for resources and energy from Asia and especially China is growing at a slower pace and sharp drops in export prices have impacted growth. GDP growth is expected to be around 2.75% over 2019 and 2020. Underlying inflation is expected to pick up to 2% by early 2020, and to increase a little further by mid-2021.
This month Vinci Airports was shortlisted to acquire Macquarie Group's stake at Hobart. Other bidders include IFM Investors, QIC, UniSuper and a joint bid by superannuation funds CBUS Super and HESTA. The sale is valued at up to AUD500 million (USD350 million). Rothschild is also understood to be supporting Vinci in its acquisition bid.
https://corporatetravelcommunity.com/macquarie-group-is-prepared-to-sell-hobart-airport-stake/
The sale of Macquarie's stake was reported previously by The Blue Swan Daily. In that article (above), investors such as Palisade Investment Partners (PIP) – which had previously mooted a "friendly" takeover of Hobart Airport in Nov-2017 - were identified; also APAC, which is majority owned by five Australian fund managers; AMP Capital Investors; IFM Investors; Deutsche Australia Ltd (Deutsche Asset Management [DAM]); Future Fund; Hastings Funds Management; and QIC. In the event, only two of these appeared on the shortlist (IFM and QIC), together with UniSuper, and two new entrants to the sector, CBUS and HESTA.
Vinci is well-known, having investments or management contracts at over 50 airports worldwide. Only six of them are in Asia Pacific – three in Cambodia, where Vinci is long-established, and in three in Japan in a joint venture with that country's Orix Corporation. So an investment in Australia might even be considered risky.
MAP - Vinci has management contracts at over 50 airports worldwide, but only six of them are in Asia Pacific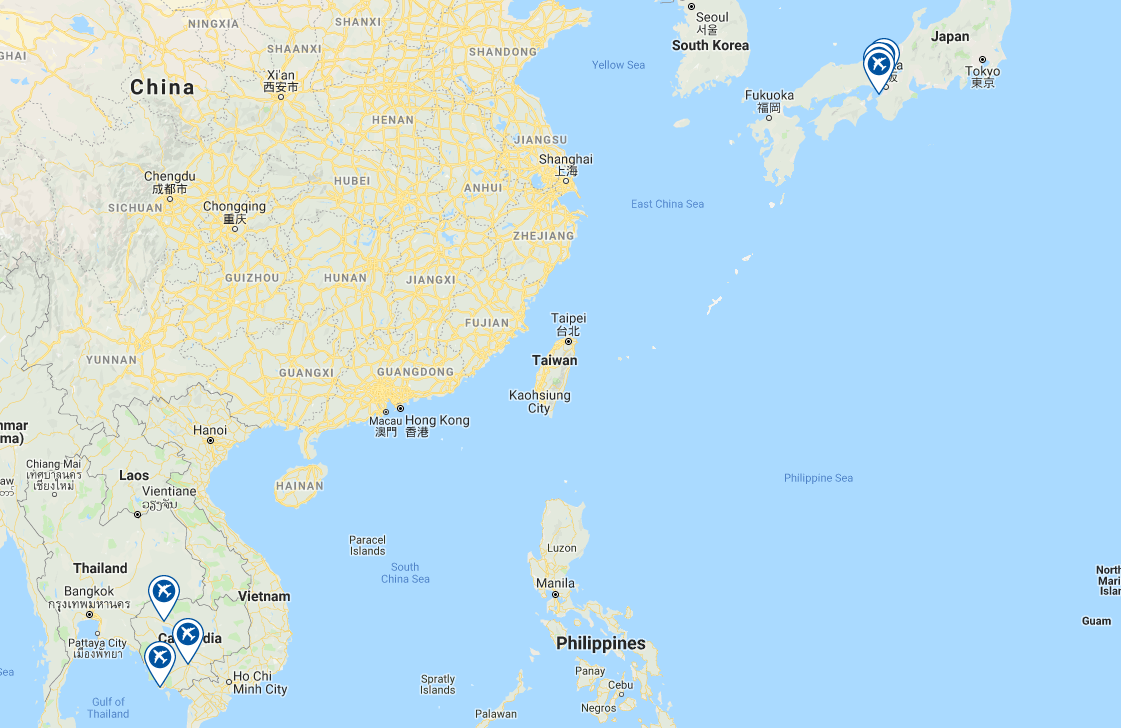 Source: CAPA – Centre for Aviation
Of the others on the shortlist IFM Investors is possibly better known for its investments in Europe (Manchester Airports Group, Flughafen Wien) than for what it has in Australia, but that latter portfolio is impressive with eight airports from Perth on the west coast to Darwin in the north, Brisbane in the east and Launceston in the south.
QIC is the investment arm of the Queensland Government to manage its long-term investments and is now the third largest institutional investment manager in Australia. QIC Global Infrastructure was established in 2006 and manages approximately USD6.8 billion of infrastructure assets. It is an investor in Brisbane Airport Corporation Holdings, with directorship and in Mar-2019 it took another plunge in the dark when it acquired, together with Dutch pension fund APG and Swiss Life, Macquarie's 36% stake in the Brussels Airport Company.
UniSuper is yet another Australian superannuation fund that provides pension services to employees of Australia's higher education and research sector. It has been a regular investor in Australian airports since the late 1990s. In Mar-2015, UniSuper acquired 40 million Sydney Airport shares from the Public Sector Pension Investment Board of Canada under a USD166 million trade agreement growing its stake in the airport to 14%. It is also an investor at two Adelaide airports and at the Gold Coast airport.
CHART – Traffic levels have been rising at around 5-6% per annum since Hobart International witnessed dips in demand at the start of the decade and in 2014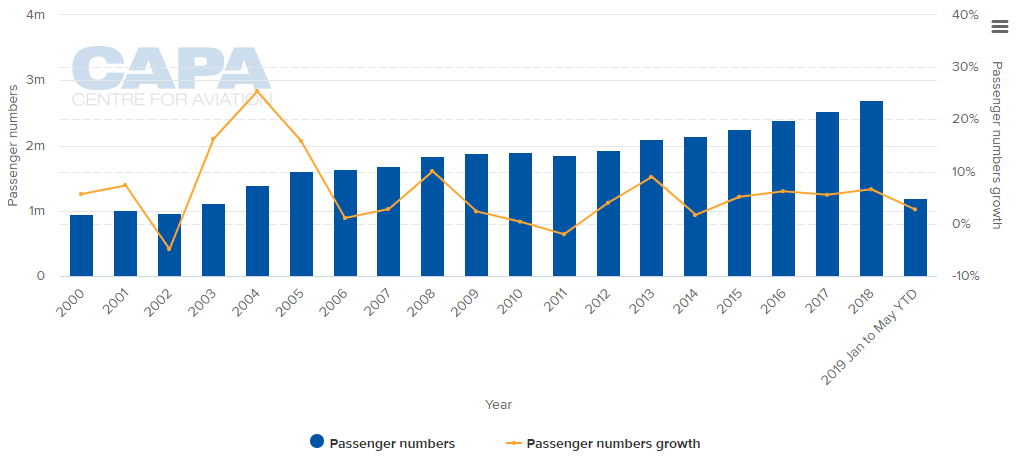 Source: CAPA – Centre for Aviation and Australian Bureau of Infrastructure, Transport and Regional Economics
This transaction also introduces two new entrants to the crowded sector, both of them, again, pension funds. CBUS Super is one of Australia's largest public offer industry superannuation funds. So is HESTA (its strapline is "We're an industry fund…yep, one of those!"). It is a pension fund for workers in the health and community service sectors and has AUD46 billion in funds under management.
The Blue Swan Daily's thoughts: Neither CBUS nor HESTA has industry experience but that may not matter if they were to win and take a hands-off, diligence-only, approach to the airport. Of the other contenders, Vinci has the international 'clout' but knows nothing of Australia while it is committed heavily elsewhere. IFM is already well represented in Australia and must be a front runner. QIC could become preoccupied with its investment at Brussels, 10,500 miles away, while UniSuper's focus seems to be on Sydney, where a second airport is being built.