Delta's fourth largest hub measured by departing frequencies, Salt Lake City, lost its direct flight to Asia in 2011 when the US major ended service to Tokyo Narita. Delta operated flights from Salt Lake City to Tokyo starting in mid-2009 and then gradually cut back service before eliminating the route in 2011.
CHART - Salt Lake City International Airport is Delta Air Lines' fourth largest network point by departing frequencies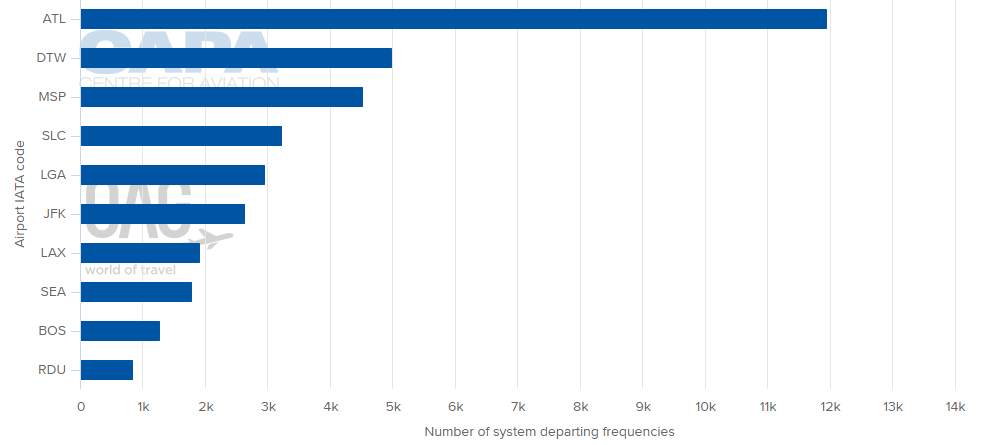 Source: CAPA - Centre for Aviation and OAG (data: w/c 28-Jan-2019)
The airline's CEO Ed Bastian recently told the Salt Lake City Tribune the primary reason those flights did not work for the airline was limited destinations for connections beyond Tokyo.
Delta inherited the Tokyo Narita hub through the Northwest Airlines merger, but has been engaged in a years-long effort to de-hub Narita an downgauge aircraft from Narita. The airline has been working to shift most of its Tokyo service to Haneda and focus on strengthening its connections in Asia through its partnerships with South Korean flag carrier Korean Air and China Eastern Airlines. Delta has a 3% stake in China Eastern, and also has a codesharing pact with the airline.
Mr Bastian highlighted to the publication that Korean Air offers service to 80 destinations from Seoul. However, he cautioned that Delta was discussing possibilities, and not making any announcements.
CHART - Delta Air Lines accounts for more than two thirds of the system seats at Salt Lake City International, rising above 90% in the international capacity segment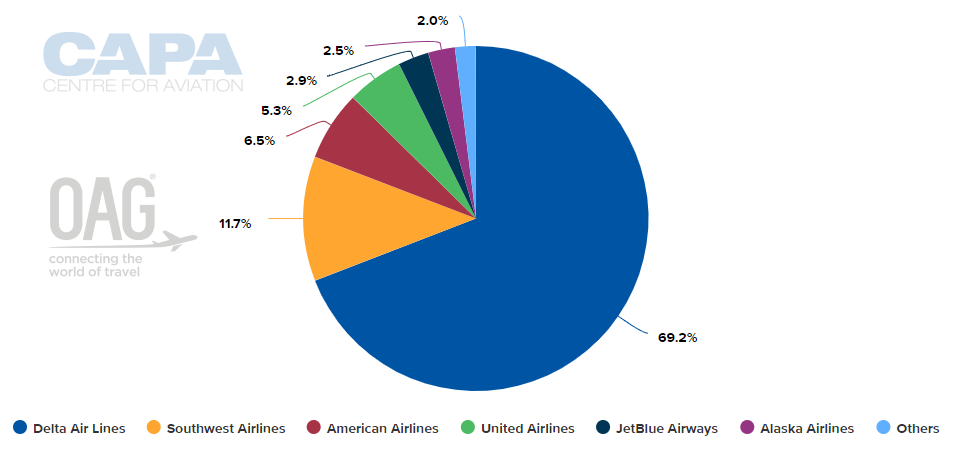 Source: CAPA - Centre for Aviation and OAG (data: w/c 28-Jan-2019)
But it does signal Delta and Korean are examining adding US points to their JV to funnel more passengers through Seoul for the benefit of both airlines. Korean currently offers service to Delta's hubs in Atlanta, Seattle, Los Angeles and New York JFK. Delta operates flights to Seoul from Atlanta, Detroit and Seattle.
Utah has a growing economy and population, and a large number of the state's residents are located near the Salt Lake City metro area. The airport is also undergoing a massive USD3.6 billion renovation that also includes upgrades to the international terminal, which are scheduled for completion in 2020.
All of those factors and the airport's refurbishment are playing a role in evaluations of new flights to Asia, and even though no announcement is imminent Mr Bastian told the Salt Lake City Tribune that "…there's no question that the new airport will create more international opportunity, and one of the things I'd like to be able to do is create an Asian route".