SEE RELATED REPORT: While there is a clear sentiment to travel, when the majority of travellers will truly feel comfortable to fly seems to be stretching further and further to the right
The new research from Flywire shows a direct correlation between travel and well-being, albeit it is based solely on leisure travellers. It shows that almost three quarters (73%) of travellers had a negative feeling as a result of not being able to travel – a similar number (70%) said not travelling means they are not able to make new and/or special memories.
Being stuck at home is taking an emotional toll on us all, especially those that are continuing to balance work with teaching children. It is understandable that we will think about all those planned business trips we have missed or enjoying some time away in an environment that is not our homes.
The findings from vertical payments company shows that over one third (35%) of consumers feel that not travelling now makes them feel sad and/or depressed, while a quarter said it makes them feel isolated and/or anxious. On the other side, four in five (82%) said travelling is a way to calm their soul and almost three quarters (72%) said the opportunity to travel again gives them something to look forward to.
CHART - The inability to travel has put a significant emotional toll on consumers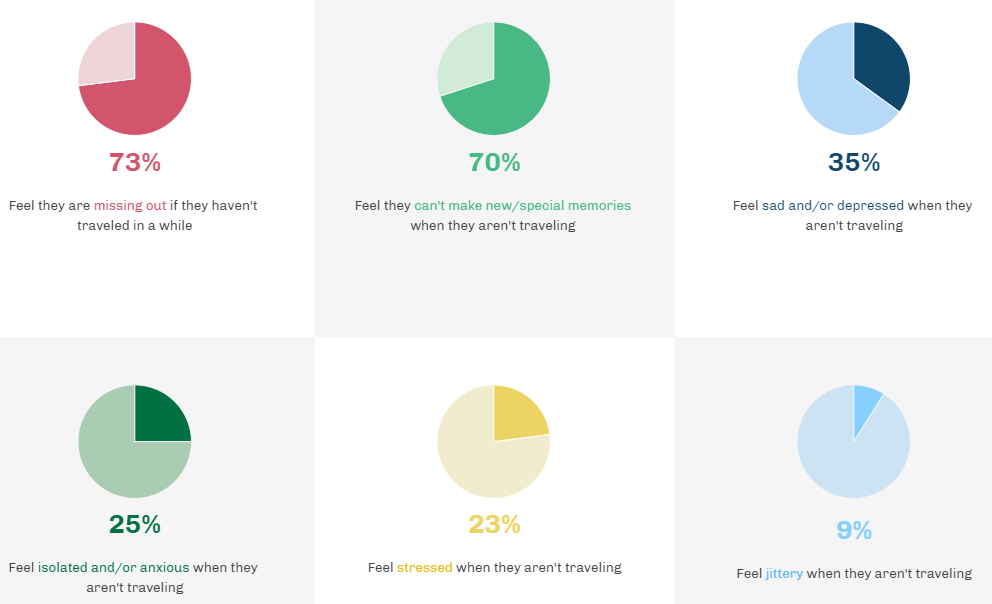 Source: Flywire report: 'Bouncing Back: Consumer Views on Traveling Again'
The Flywire research 'Bouncing Back: Consumer Views on Traveling Again' reveals very strong consumer demand for travel post coronavirus crisis with travellers optimistic about the industry. This suggests a resurgence of the industry when travel options return; 93% of respondents were confident the industry will still be here after the pandemic is over and more than two thirds (69%) plan to travel again when it does.
The interactive report is based on an independent survey of adult leisure travellers from the United States, Canada, United Kingdom and Japan. The research looks at the impact of the coronavirus crisis on consumer travel plans and their expectations of travel providers to encourage more travel.
Over half of the travellers surveyed said they will spend the same on travel for the remainder of this year/next year as they did last year while one in five will increase their budget, although more than half (55%) plan to stay in their own country for their first trips. The types of vacations planned include the beach (38%), visiting family and friends (36%) and city vacations (23%).
A high majority (88%) of those surveyed said ease of payment is important to their overall travel experience with almost half (48%) saying it is very important. Two thirds (66%) said that the payment experience impacts their choice of travel agent or tour operator. This suggests that "ensuring a seamless payment experience can directly impact revenue for travel agents and operators as they try to bounce back," says the report.
On thew whole consumers are pleased with the travel industry's response, but they also expect more. Over three quarters (77%) said that the industry is doing a great job considering the circumstances, but on the flip side, 88% of those surveyed said the travel industry needs to be more flexible in dealing with changes and cancellations. Hotels received the highest grades for their response while cruises and airlines were viewed as the least responsive.
The research found some important differences by country in consumer attitudes about the industry and plans to travel: US travellers were found to be the most bullish about the travel industry and the most ready to travel again.
UK travellers will wait a bit longer to travel again, but when they do, 80% plan to spend the same or more as they did in the last 12 months; Canadians are the most conservative when it comes to expected travel spend versus the previous year but for those that plan to travel, adventure will be high on their list. Meanwhile, Japanese travellers are the least ready to travel again, but still plan to spend the same or more versus the previous year.