---
Summary:
Malta Airport grew passenger numbers by over 13% in 2018, in line with or better than other Mediterranean islands;
About half of its capacity is now flown by low-cost carriers and national carrier Air Malta is itself now adopting a hybrid model to better compete;
The UK remains the major market for tourism in Malta and is not likely to be impacted adversely by Brexit.
---
Passenger traffic has risen steadily since 2012 and sharply in 2017 (18.4%). The growth figure for 2018 is very respectable in comparison with other Mediterranean islands which are also tourist destinations with only Larnaca in Cyprus (based on 2017 data only) and Corfu in Greece currently growing at a faster annual rate. The operational forecast for 2019 predicts an increase in passengers of 5.8% to 7.2 million.
TABLE – Malta Airport has performed strongly when compared with other airports across the Mediterranean islands

Source: CAPA – Centre for Aviation Airport Profiles (NOTE: Passenger growth levels for Larnaca, Paphos and Ajaccio are for 2017)
The 'top market' in 2018 was the UK with 1.7 million passengers. That statistic squares with tourism data for Malta (the most recent is for 2017), which identified 561,000 visitor arrivals from the UK (24.7% of the total), the nearest challenger being Italy, with 16%. There are three times the number of visitors annually as there are residents.
Most of those 561,000 visitors will have returned home, aggregating up to 1,122,000 journeys, the remainder being mainly originating journeys in Malta by Malta-based UK nationals. A similar pattern will apply to most other countries, though with a greater degree of inbound tourism. Despite independence from the UK, ex-colonial links with the UK have continued and have if anything improved latterly.
Which raises the question of 'Brexit' and how Malta, one of many European countries reliant on UK tourists, will fare. So far, there is no sign of British tourists putting off bookings for 2019 to anywhere in Europe, including Malta.
In the event that the UK leaves the European Union on 29-Mar-2019 or any later date without a 'deal' there are several options by which flights between the two countries could continue, such as the UK reapplying to be a member of the Common Aviation Area, or taking on a bilateral air service agreement with the EU as a whole, or ASAs with individual countries that are members of the EU.
In an emergency scenario the re-imposition of the ASA with Malta that existed before the UK signed up to European Open Skies would be the most likely outcome, at least initially although some tinkering would be required, and Malta benefits from having had such an ASA for a long time. As Ryanair has taken out a UK Air Operators Certificate (AOC) with the British CAA the largest carrier at Malta International Airport would be able to continue its UK services in that manner.
CHART - The ownership of Malta International Airport Ltd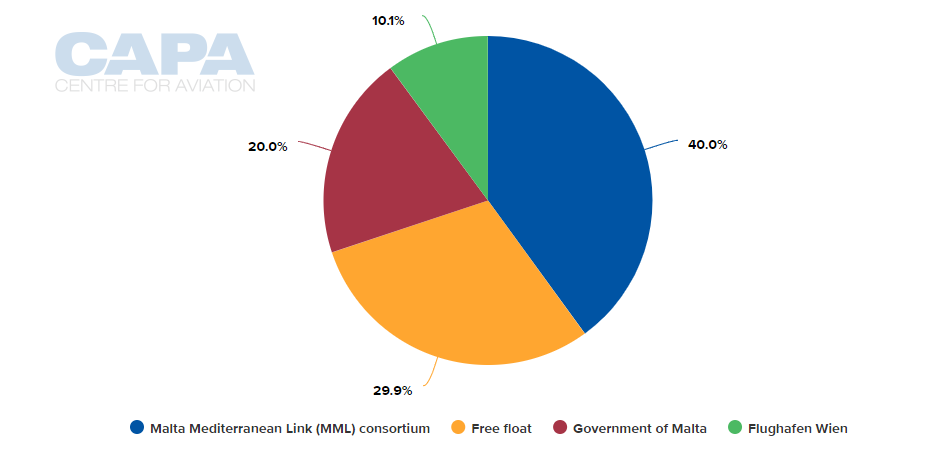 Source: CAPA - Centre for Aviation Airport Profiles
Looking to the future, operator Malta International Airport Ltd has earmarked over EUR20 million for 2019 projects including development of its airport campus. Alongside this project, the airport is developing plans for a new aircraft parking area, adding seven code C aircraft stands and four code E stands. It is also proceeding with works on a EUR20 million parking village project to introduce 1,300 parking spaces to the airport campus by 2020.
According to the CAPA – Centre for Aviation Airport Construction Database, including this project (USD40 million over two years), a hangar project and possible terminal expansion, almost USD150 million will be invested in improvements in forthcoming years. The company's projection for 2019 is for a rise in EBITDA to EUR59 million and net profit to EUR31 million.