---
Summary:
Portland International airport has been named the best US airport for the seventh consecutive year by Travel and Leisure magazine;
The facility has seen traffic levels increase 38% between 2008 and 2018, growing to 19.8 million in 2018;
Around USD2 billion is being invested in improving the airport, including extension of its Concourse E, which will result in six new gates for Southwest Airlines from summer 2020.
---
Maintaining this standing is happening against a backdrop of booming demand as the airport pushes passenger levels to record numbers, having posted 38% growth in traffic from 2008 to 2018, when throughput inched ever closer to the 20 million threshold.
Portland International posted 4.2% passenger growth year-on-year in 2018, to 19.8 million, which puts the airport within striking distance of handling 20 million passengers during 2019. The ratings agency S&P has calculated that the airport's emplanements from fiscal years 2014 to 2018 had a compound annual growth rate of 5.8%.
This year to date it has been growing at its slowest rate this decade, up just +1.2% year-on-year across the first five months, but that will just be enough to pass the 20 million annual figure. The slowing of growth is due to a -5.4% reduction in international traffic during the Jan-2019 to May-2019 period, which is offset by a +1.4% rise in the much larger domestic segment, which accounts for nearly 95% of capacity.
CHART - Portland International has recorded year-on-year growth every year this decade, peaking at a rate of +8.9% in 2017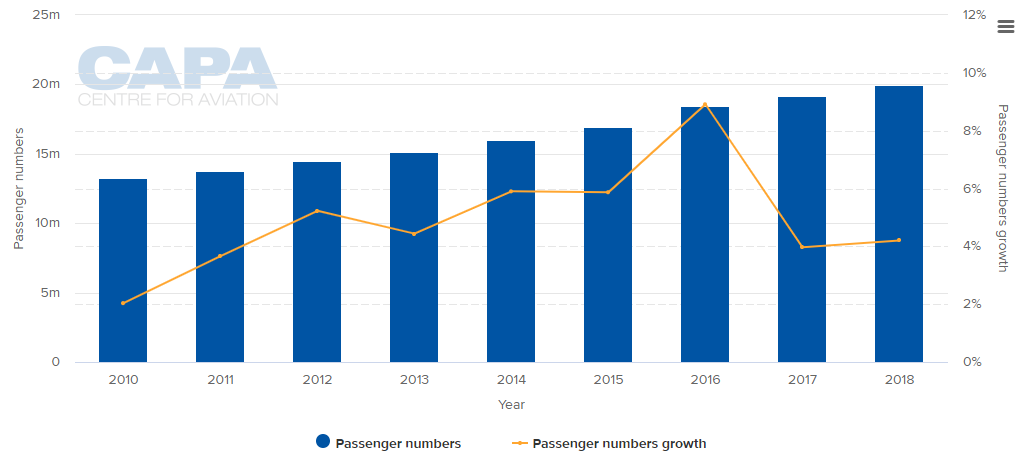 Source: CAPA - Centre for Aviation and Portland International airport reports
The airport is working to ensue it can support continued growth prospects. It has recently completed an extension of its Concourse E, which will result in six additional gates for Southwest Airlines in the summer of 2020. A new terminal is planned for completion in 2025 that will support annual passenger levels of 34 million.
Southwest Airlines is currently the second largest operator at Portland International behind Alaska Airlines. Delta Air Lines is the largest of three US majors, while JetBlue Airways, Hawaiian Airlines, Spirit Airlines, Sun Country Airlines and Air Canada are among the leading airlines serving the facility.
The development projects and others are part of improvements to the airport for a total cost of USD2 billion. According to Oregon Business, the projects are being funded by airlines and revenue bonds. As those project progress, Portland International keeps collecting accolades. One reader declared to Travel and Leisure magazine: "Can't think of anything that PDX doesn't do well."
An example of how the airport has been working to enhance the airport experience has been its work with rideshare services to deliver a simpler solution for travellers and ease overcrowding during peak travel periods. This was certainly a case on many Sunday evenings with a state of curbside confusion as customers scanned incoming cars, traversing the curb length to find their ride, while drivers search for their ride while avoiding travellers lugging suitcases darting in and out of cars.
Now, Uber and Lyft have introduced new rideshare processes at the airport in an effort to reduce wait times and curbside congestion. Uber's new PIN solution grants passengers a one time code, which they show to an UberX driver at the airport's designated pick up location. The Lyft solution also offers passengers a code, which they show to the next available rider at the pick up zone.