---
Summary:
Wizz Air to launch new flights from London Luton to Athens, Greece; Bari, Italy; and Keflavik, Iceland; in 2018.
New routes mark a notable transition for Wizz Air at the London airport where it has previously focused its network on routes from its core Central and Eastern European markets.
London Luton Airport is biggest point in the Wizz Air network but it was only this year that it was opened as a base for the airline: it will grow to seven stationed aircraft in 2018, including two larger A321s.
---
Wizz Air has successfully established itself as a pan-European business with a focus on Central and Eastern European markets where in some cases it has actually become the de facto flag carrier of nations. But its strategy relies on providing point-to-point connections into western European markets, and this is not more obvious than at London Luton Airport in the UK.
While the majority (53.5%) of its current scheduled inventory is from markets across Central and Eastern Europe - Poland and Romania are its largest home markets - Luton Airport, located around 25 miles north of London in Bedfordshire, is actually its largest network point.
The airline first introduced flights to the UK in 2004 and London Luton has been a pivotal part of its model. With a total operation now encompassing over 45 destinations across 20 countries, London Luton accounts for just under a 10% share of Wizz Air's total network capacity, ahead of its established and growing bases in Budapest, Bucharest, Gdansk, Warsaw and Katowice.
Over the past twelve months (to 31-Oct-2017) Wizz Air has carried more than 5.5 million passengers on its Luton routes alone, an increase of 11% compared to 2016, making it the second largest carrier at the airport behind easyJet. It is expanding its capacity at Luton by 23% year over year, and will offer in 2018 more than 7.4 million seats.
But until now its model has been based upon linking its focus Central and Eastern European markets with the UK capital. In fact only one of the 42 routes it has flown into London Luton this year is from a point outside of this region, namely a link to Tel Aviv in Israel, launched in Jun-2017. It did also previously serve London Luton from Aeroporto di Treviso A Canova, but this route only operated in Jun-2010.
Wizz Air's previously announced growth for 2018 initially also focussed on Central and Eastern Europe markets with links from Bratislava, Slovakia; Lviv, Ukraine; Tallinn, Estonia; and Tirana, Albania, albeit it did also include Larnaca, Cyprus. Confirmation of its latest routes will see its destination count outside of Central and Eastern Europe grow to five with a daily link from Athens from 29-Apr-2018, a four times weekly service from Keflavik from 29-Apr-2018 (increasing to daily from 17-Sep-2018) and a twice weekly connection from Bari from 25-Mar-2018 (growing to four times weekly from 19-Apr-2018). It will also boost its new Larnaca route from a daily to ten times weekly schedule from 17-Sep-2018.
CHART – Wizz Air has more than quadrupled its network at London Luton Airport over the past ten years growing capacity at an average annual rate of 16.8% during the period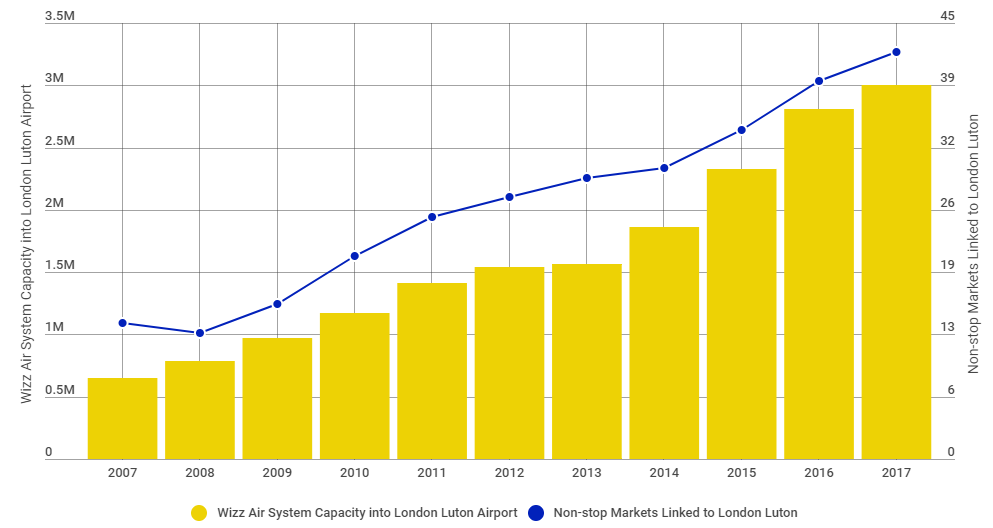 Source: The Blue Swan Daily and OAG