According to brand valuation consultancy, Brand Finance, without the ability to monitor a brand's performance the company will often underestimate the significance of their brands to the business.
"Sceptical finance teams, unconvinced by what they perceive as marketing mumbo jumbo, may fail to agree necessary investments" says Brand Finance CEO David Haigh, adding: "The end result can be a slow but steady downward spiral of poor communication, wasted resources and a negative impact on the bottom line."
Without knowing the value of a brand it would be hard to maximise on returns. For instance if you are intending to licence a brand you need to know the value in order to get a fair price. If you are selling a brand then you need to know the value as well as whether the time is right. Knowing a brand's value is essential when deciding to rebrand or discontinue it.
According to Brand Finance the world's 25 most valuable airport brands could lose up to USD1.7 billion in 2020 due to the effects of Covid-19. The airport sector is one of the most badly affected sectors and could lose a potential -20% in brand value.
According to the 2020 league table of the top 25 airport brands, there have been some clear changes since Covid-19 although the top of the table remains unchanged.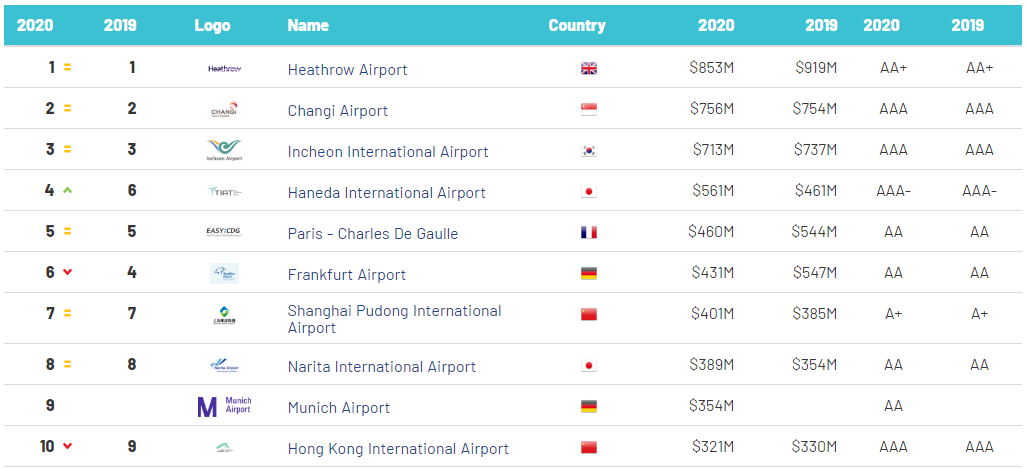 London Heathrow remains the world's most valuable airport despite its value falling -7% to USD853 million. Remaining in second is Singapore Changi Airport with a value virtually unchanged at USD756 million. Also unchanged in third is Seoul Incheon Airport with just a slight drop in value to USD713 million.
In 2019 London Heathrow was the seventh busiest airport in the world, and Europe's busiest, but recorded flat retail revenue per passenger last year and is showing signs of slowing long term growth. Whether it holds onto the top slot in future years will depend on how it handles the third runway issue and whether it can address the environmental concerns. In the 2Q2020 the airport reported an 85% drop in revenue with passenger numbers down 96%.
Bangkok Suvarnabhumi Airport is the fastest growing airport brand this year with a +24% brand value increase to USD260 million, which has taken it from 16th slot up to 12th. The airport is the sixth busiest within Asia and the recent approval of the second terminal that will help triple the capacity will only boost the brand value further.
A new entrant into the top 25 airport brands is Munich Airport, which has come in at ninth place with a brand value at USD354 million. Another strong riser is Tokyo Haneda which has risen a massive +27.1% versus last year to land fourth place with a brand value of USD461 million.
Another aspect of evaluating airport brands is through the strength of the brand, which is measured through factors such as marketing investment, customer familiarity, staff satisfaction and corporate reputation. Using these criteria then Hong Kong International – although its brand value dropped -2.6% since last year – has a high brand strength index of 88.6 out of 100. The airport is committed to its Master Plan 2030, which focuses on expansion and development to reach its goal of handling an additional 30 million passengers a year.
As the world grapples with Covid-19 and passenger demand is likely to be reduced for some time to come, the future of airports is largely out of their hands. Airports will likely have to rely on the strength of their brand and their ability to influence key stakeholders, such as governments, airlines and investors, to recover once the world starts to return to what we had come to know as normal.