The butt of many a joke, airline food is often seen as something to help while away the hours rather than something to enjoy. Over the years airlines have done much to try to bring some excitement to their food, although generally this is restricted to premium passengers in the First and Business cabins.
Airlines have enlisted the help of many a celebrated Michelin chef – Michel Roth, Régis Marcon, Anne-Sophie Pic, Julien Royer, Jonnie Boer, Georges Blanc, Tom Kerridge and Shinobu Namae to mention but a few used by Air France, KLM, Singapore Airlines, British Airways and JAL amongst others.
The menus may have been designed by these Michelin chefs but it's debateable whether they taste quite as good once reheated in an aircraft galley and served at 30,000 feet, rather than lovingly grafted by the chef's own kitchen.
But not everyone agrees. Supermodel Chrissy Teigen once reportedly said that she loved airline food. AirAsia Group CEO Tony Fernandes is also an outspoken fan of AirAsia's food. In fact they believe their food is so good that they have now opened a restaurant in their home city of Kuala Lumpur so that more people can sample their exceptional offering.
Called Santan, after the Malay word for coconut milk, the new fast food restaurant offers a menu that includes all that is offered in the air and more. Southeast Asian favourites such as nasi lemak, beef rendang, fried chicken with noodles and Vietnamese pho are all available to buy plus lots more and the restaurant is proving extremely popular. There are now plans to roll out Santan across other countries including China and the US.
With so many grounded flights, one of the largest in-flight catering companies Gate Gourmet is now offering the chance to buy airline food. In Australia where flights in and out of the country are largely grounded, the company has been offering prepared airline food to the public.
A clearance pack of 10 frozen meals costs just AUD20. At AUD2 per meal that can't be sniffed at although whether our taste buds are the same on the ground as they are in a pressurised cabin is not clear. Many world-renowned chefs have initially been surprised just how much our taste buds are comprised in a pressurised cabin environment and dishes need to seasoned appropriately and stronger flavours introduced to meet that need.
Air North, a Canadian airline based in Whitehorse, Yukon, will deliver frozen meals to your door – as long as you live in Whitehorse. Russia's Ural Airlines started selling their in-flights meals to customers in Moscow, St Petersburg and Yekaterinburg so that those who are unable to travel at the moment can 'get a taste of travel without leaving home'.
Thai Airways meanwhile is selling their 'Chef's Signature Meal Box', which includes an entrée as well as a desert, to Bangkok residents for pick up from either Suvarnabhumi or Don Mueang airports or from Puff & Pie shops. The airline is also offering the opportunity to spend a cooking day with one of the airline's chefs as part of their programmes for grounded passengers that also includes flight attendant training, a four day pilot training simulator course and an emergency simulator training course.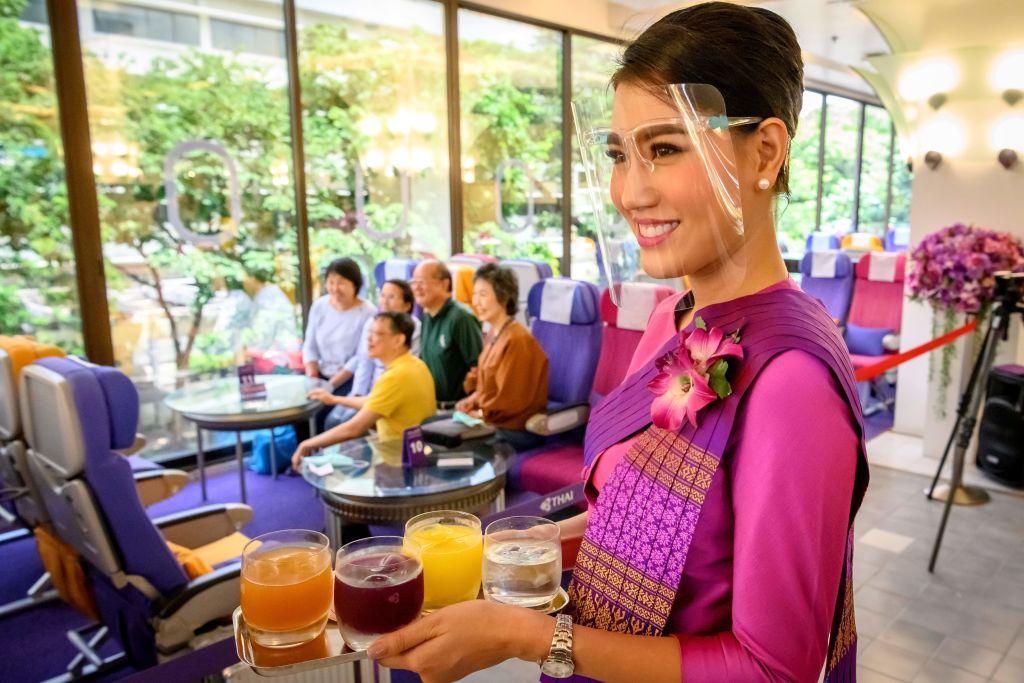 In Indonesia, the catering company that prepares food for Garuda, has started selling in-flight meals to the public in a promotion called Fly with Meals. Options include a cheese omelette, spinach-and-pastrami quiche and two Indonesian dishes with rice.
Imperfect Foods in the US, a company set up to eliminate food waste, are offering the chance to buy snack packs of cheese and biscuits that were destined for JetBlue passengers. Meanwhile, Corporate Travel Community has recently featured how first class nuts are becoming an online phenomenon ('Southwest is hungry for greater share of the business travel pie, while first class nuts become a new online phenomenon') and how Etihad Airways is deploying artificial intelligence (AI) to ensure its inflight meals don't go to waste ('It's no longer about just meat, fish or pasta? Etihad is among latest airlines adopting AI and machine learning to reduce inflight food wastage')
Tamam Kitchen, a leading Israeli in-flight catering company that provides food to El Al and Turkish Airlines amongst others, is also offering the public the chance to buy excess food for as little as USD3 a tray. They don't claim that the food is that fancy but it's quick and easy and they are reportedly receiving over 100 orders a day so it can't be all that bad.
So if you are feeling nostalgic for those aluminium trays of microwaved food, then there are opportunities out there to get a taste of flying without leaving home.