WTTC reports on 82 cities globally for tourism statistics and prospects
The World Travel & Tourism Council (WTTC) has reported on the top city destinations for 2022 based on the travel and tourism sector's direct contribution to city GDP.
There were 82 cities around the world that were put under the microscope.
The report, sponsored by Visa and researched in partnership with Oxford Economics, analysed key indicators in these cities, such as Travel & Tourism's contribution to GDP, employment and traveller spend.
Julia Simpson, WTTC President & CEO, says that although major cities such as London, Paris and New York will remain global powerhouses, over the next few years Beijing, Shanghai, and Macau will be moving up the list of top city destinations.
Paris tops the tourism value list
WTTC revealed the French capital Paris as the world's most powerful city destination, but predicts that it will be overtaken by Beijing by 2032.
The Paris travel and tourism sector was valued at USD35.6 billion in 2022. That value is expected to increase to USD49.1 billion by 2032, but Paris is forecast to drop to third place in the global ranking. Travel and tourism represents 3.5% of Paris' economy.
Tourism to France is not limited to Paris of course. France has extensive Mediterranean and Atlantic coastal areas and charming countryside, but Paris has always held a particular attraction to visitors from around the world.
According to CAPA data (2018, the most recent available), the UK provided the highest number of visitors there (14.6%), just ahead of Germany and Belgium/Luxembourg.
But not all those visitors arrive by air, by any means. There is an increasing push in Europe – France especially – to move to other forms of transport.
Chinese visitors amounted to 2.5% of the total, but that is expected to increase rapidly.
Visitor arrivals by market for 2018 – France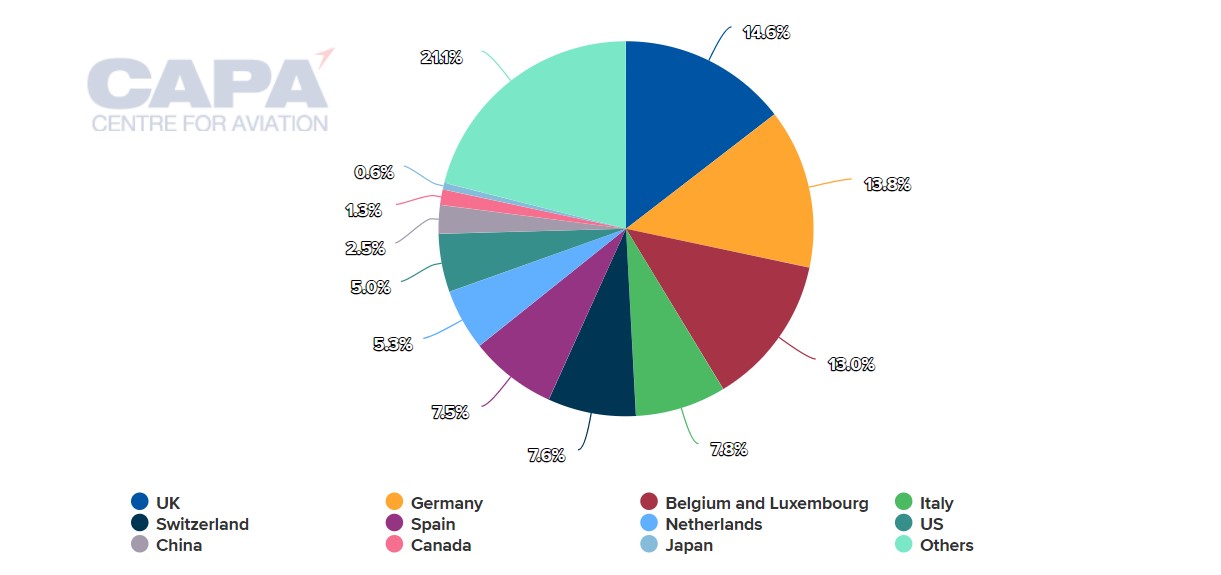 Paris Charles de Gaulle Airport was the ninth busiest globally in 2019 and the second busiest in Europe.
Beijing projected to 'leapfrog' Paris
In second place was the Chinese capital Beijing, with a Travel & Tourism sector worth nearly USD33 billion.
However, WTTC predicts that Beijing will leapfrog Paris within the next 10 years, growing to a "staggering" USD77 billion.
China has, of course, been hard hit by the COVID-19 pandemic, with travel restrictions only having been removed in the second week of Jan-2023.
In 2019 the vast majority of visitors to China as a whole came from Hong Kong, followed by Macau, which are both 'Special Administrative Areas'.
No country apart from Taiwan provided more than 4% of visitors.
Visitor arrivals by market for 2019 – China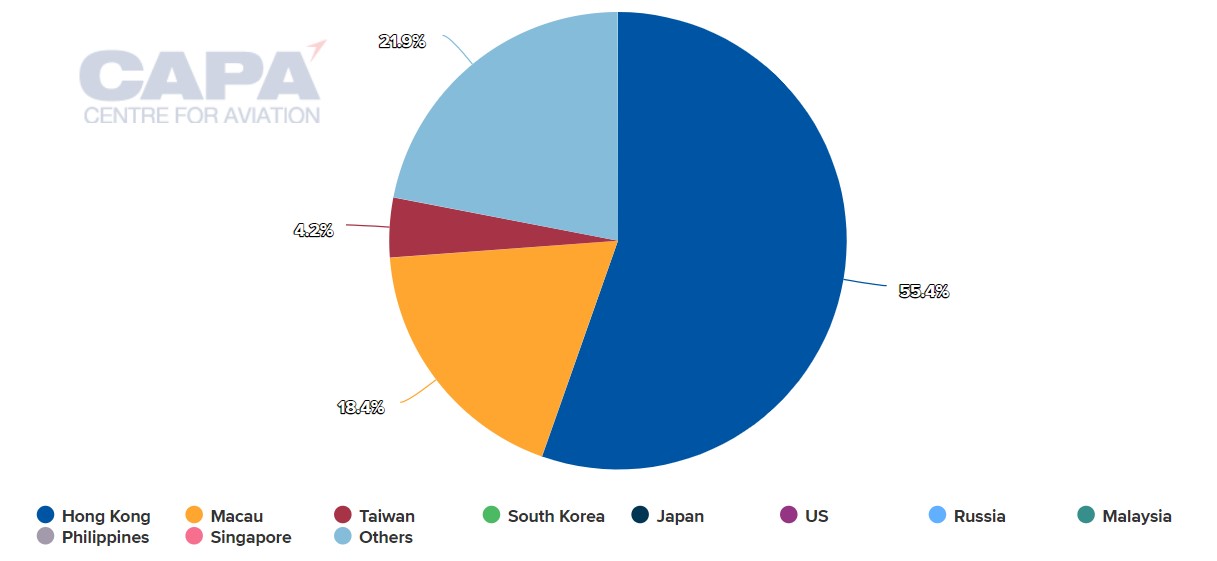 China's national Travel & Tourism sector has witnessed phenomenal growth over the last decade as the country has invested in new hotels, transport infrastructure and new tourist destinations.
However, what the WTTC may not have taken into account is the potential for initial reluctance on the part of western tourists to travel to China while there remains such a high prevalence of COVID-19.
Beijing's main airport has spiralled down the rankings during the pandemic
Beijing Capital Airport was the world's second busiest in 2019, falling to seventh place in 2020, after which it spiralled down the rankings on account of continuing lockdowns and travel restrictions.
Conversely, the new Beijing Daxing Airport did grow throughout that period.
Tourism represents a fifth of Orlando's economy
In third spot is Orlando, Florida, home to Disneyworld and an array of other theme park-style entertainment in the area and the most visited tourist destination in the US.
The travel and tourism sector there was valued at USD31.1 billion; it is expected to grow to USD45 billion but drop to fourth rank by 2032, despite growing by 50%.
Travel and tourism represents 20.4% of Orlando's economy. The main countries from which visitors to Florida generally came in 2021 were Colombia, Canada, Mexico, Peru, and Ecuador.
That small city of only 300,000 people had the world's 31st busiest airport in 2019 (Orlando International), and is also served by the smaller Orlando Sanford Airport.
China returns in fourth place in the shape of Shanghai, where tourism was valued at USD29.7 billion.
Shanghai's tourism value is expected to grow to USD70.9 billion and it will become the second-ranked city destination by 2032.
In 2019 Shanghai's Pudong (international) airport was the eighth busiest in the world, just behind Paris CDG.
Las Vegas retains its position on the list
Next on the list, and not unexpectedly, is Las Vegas, the world's gambling capital and where tourism value was USD23 billion.
Las Vegas is the only city in the top 10 list which holds its place, firmly staying as the fifth largest city destination.
The city is expected to grow to USD36.5 billion in tourism value and remain in fifth place by 2032.
Travel and tourism represents 16.3% of Las Vegas' economy.
Las Vegas and Orlando are the only cities currently in the top 10 most powerful city destinations based on the sector's value, being cities that rely heavily on the sector as a share of the city's overall economy (16.3% and 20.4% respectively).
Passenger traffic at the recently renamed Harry Reid (previously McCarran) International Airport slumped by 57% in 2020 on account of COVID-19, but grew back by 79% in 2021.
In 2022 (Jan-Nov) traffic was up again by 35%, to close to 2019 levels overall.
Las Vegas Harry Reid International Airport: annual traffic, passenger numbers/growth, 2019-2022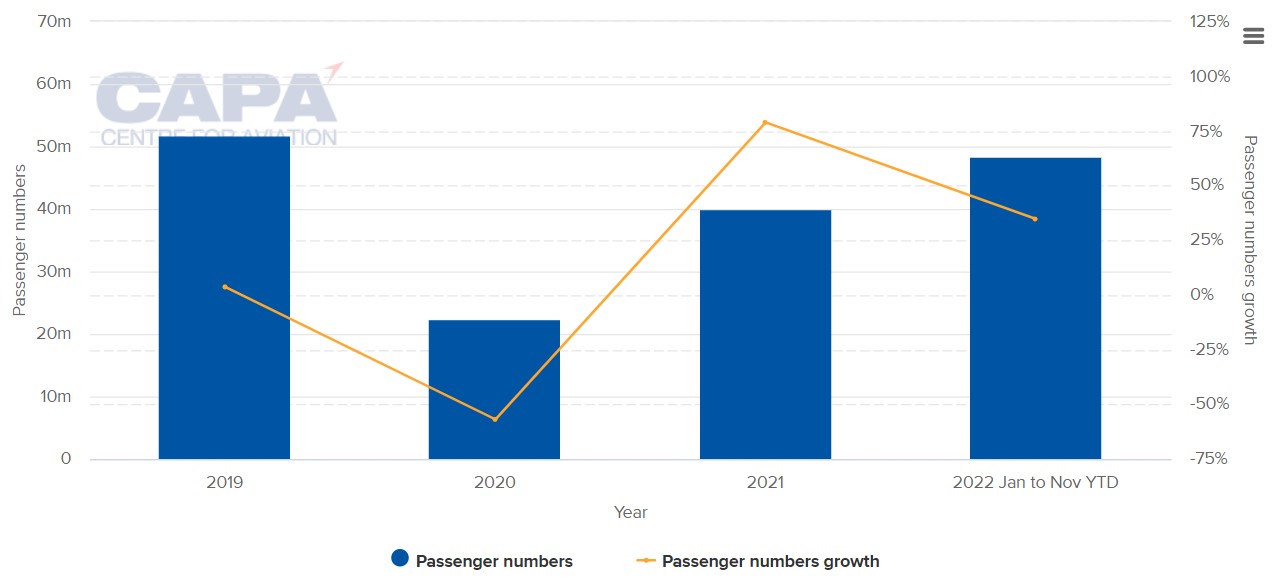 You can read more on the WTTC report on our sister CAPA - Centre for Aviation site: WTTC report on economic value gained by cities from tourism – shift towards the east