---
Summary:
Zambia Airports Corporation plans to develop Lusaka's Kenneth Kaunda International Airport into a "new hub" for Africa.
IATA projects Africa to be the fastest growing region to 2036 at 5.9% per annum, for a total market of 400 million passengers annually.
The main hubs in the Continent are currently in Addis Ababa, Johannesburg, Nairobi and Cairo and well spread across Africa from a geographical perspective.
The lingering inability to conclude the Yamoussoukro Agreement, now almost two decades old and which was intended to open up Africa's skies, continues to hang over air service development in the region.
---
The forecasts for African aviation continue to be positive. IATA projects Africa to be the fastest growing region to 2036 at 5.9% per annum, for a total market of 400 million passengers annually. But that is well in the future and to achieve that growth the infrastructure must be improved dramatically. It doesn't help that airline profitability is the worst of any world region and getting worse still despite the preferential operating circumstances that exist presently.
The International Civil Aviation Organisation (ICAO) recently voiced concerns that African airport and air navigation infrastructure will struggle to keep up with global requirements without significant investment. ICAO intends to cooperate closely with African states, in line with the African Union's Agenda 2063 and the priorities of ICAO's 'No Country Left Behind' initiative in order to meet its long term aviation growth forecasts.
Africa is a big continent with few genuine hubs. Of the top 10 airports by passenger numbers, Johannesburg certainly is, both domestically and internationally. Beyond Johannesburg and a handful of others no obvious international hub role and promotion can be found at many of the other busiest airports on the continent.
TABLE - How connected are Africa's leading airports? Our analysis discovers if there is any such hub activity and to what degree it is important (score out of 10)
Source: The Blue Swan Daily, CAPA - Centre for Aviation and OAG [NOTE: in the case of Egypt and Tunisia passenger traffic highs have been recorded ahead of terrorism related traffic declines]
Other cities not in the top 10 have had minor hubs in the past, such as Accra, Ghana; or aspire to have them, such as Dakar, Senegal (where the new Blaise Daigne airport opens as this is written); Kigali, Rwanda; and Praia, Cabo Verde.
The main hubs now are Addis Ababa, Johannesburg, Nairobi and Cairo, all scoring five or above in the importance of hub operations. They are fairly well spread across the continent, one each in the north and south and two in East Africa. The west is where the opportunity lies but it is unlikely to be taken up by Lagos while privatisation issues remain unresolved there while Accra has reduced in importance. The new Senegal airport might fill the gap while the proposed hub development at Cape Verde is now airline rather than airport driven, by TACV under Icelandair management, but Praia is 400 km offshore and enhanced hub activity there will probably by-pass Africa anyway.
Zambia is not in the west but is well-positioned even so to benefit from what aviation growth will realistically occur in Africa, lying strategically between Southern Africa and East Africa. Indeed, the Common Market for East and Southern Africa (COMESA) is headquartered in the capital, Lusaka.
In close proximity are some of the economically fastest growing countries in the world, such as Rwanda (2017 GDP +7.5%); Tanzania (+7.1%); Mozambique (+7.5%) and DR Congo (+9.0%) [sources: World Bank and World Factbook]. Yes, they may be growing from a small base but these are growth levels any developed country would covet greatly.
MAP - The Republic of Zambia, is a landlocked country in Southern Africa, neighbouring the Democratic Republic of the Congo to the north, Tanzania to the north-east, Malawi to the east, Mozambique, Zimbabwe, Botswana and Namibia to the south, and Angola to the west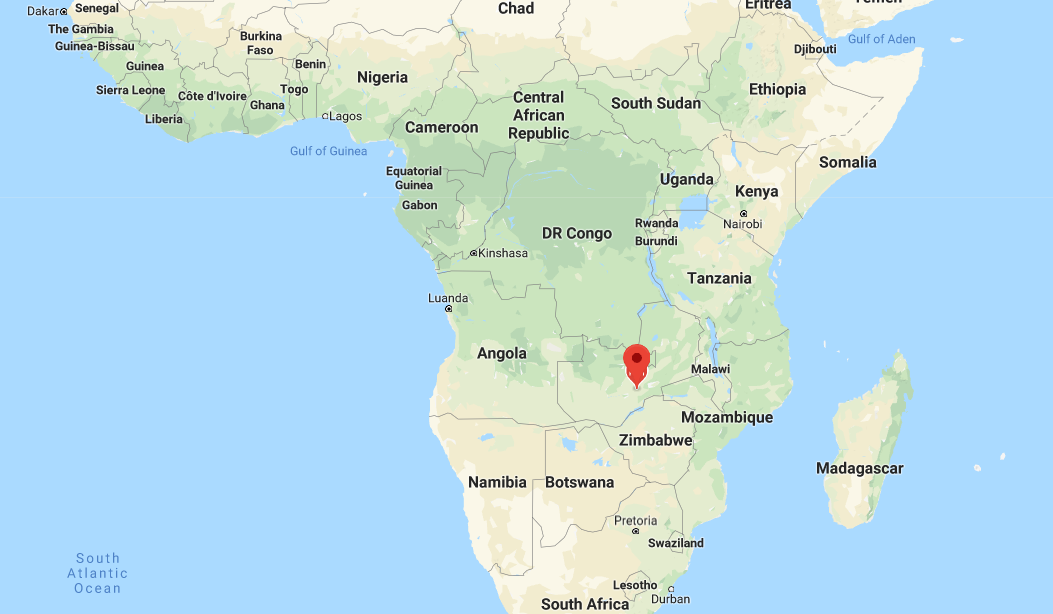 Source: Google Maps
Directly to the west is mineral and petroleum rich Angola, another country to have held the 'fastest growing' accolade while Zambia borders Botswana too, the country with the highest GDP per capita in Africa. Of course there are basket cases, well one anyway, namely Zimbabwe, though the events of the last month at least hint at a better future for what was once the "bread basket" of the continent.
Practically, there are good reasons why Lusaka might be a new African hub. The existing two in proximity, to the south (Johannesburg) and north (Nairobi), are adversely affected by crime and political instability respectively. There is a greater degree of political stability in Zambia and while crime rates are high they are nowhere near the levels found in South Africa.
The Kenneth Kaunda airport is small, with only 1.1 million passengers in 2016. But it has a 4000m x 46 m runway that can handle most aircraft types. Construction activities, scheduled to be completed soon, and at a cost of USD385 million, include a new international terminal with the capacity to handle four million passengers per annum and two new hotels including one for transit passengers. [Source: CAPA Global Airport Construction Database].
New routes have been opened by airlines such as Emirates Airline in the past few years, together with an expansion of services by South Africa Airways (SAA), Kenya Airways and Ethiopian Airlines.
CHART - A non-African carrier leads the way in Lusaka with Emirates Airline offering the largest seating capacity ahead of the Continent's major operators such as South African Airways, Ethiopian Airlines and Kenya Airways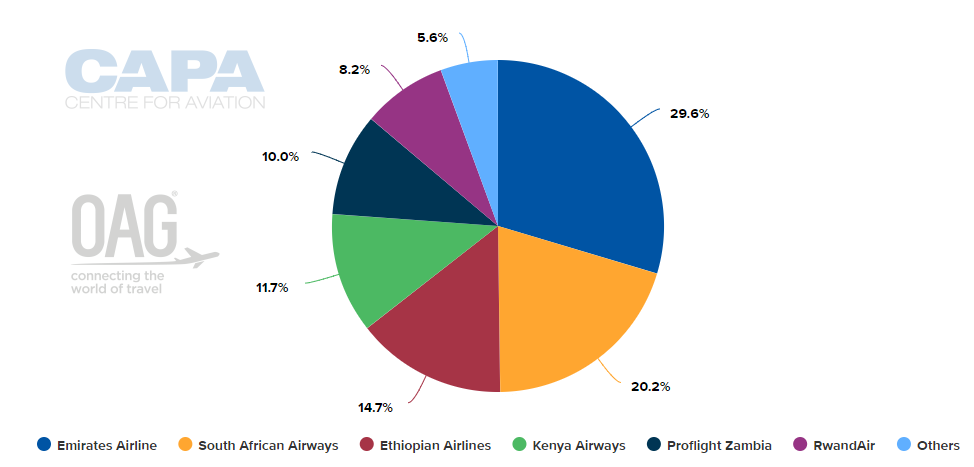 Source: CAPA - Centre for Aviation and OAG (data: w/c 11-Dec-2017)
Zambia does not have a national carrier since the collapse of Zambia Airways in 2009. Attempts were made to resurrect it in 2016 but were deferred. It is now expected to re-launch under the same name in 2018 though it is not clear what aircraft will be flown.
A strengthening of the currency saw a rebound in small merchants and traders involved in overseas trading, particularly to Dubai and China, this year while the tourist travel market has begun to settle after the effects of the Ebola outbreak in West Africa. These developments collectively seem to have convinced the Zambian Airports Corporation that now is the time to think big and to see if airline co-operation can actually stimulate a new hub in the country.
But for that to work the lingering inability to conclude the Yamoussoukro Agreement, now almost two decades old and which was intended to open up Africa's skies, continues to hang over any such intention.