TACV, the Government of Cape Verde and Loftleidir Icelandic, the charter and wet lease arm of Icelandair, entered a management agreement on the restructuring of TACV on 10-Aug-2017 with Loftleidir Icelandic to serve as a strategic partner with TACV and the Government in respect of network planning, marketing, sales and distribution planning, restructuring the airline's fleet and building a hub-and-spoke system to support an air hub operation in Cape Verde.
The government has been working to establish a legal framework for the privatisation of TACV that would allocate up to 51% of the equity to a strategic partner.
This deal has been mooted for a long, long time. Icelandair is the acknowledged master of North Atlantic 'sixth freedom' hub operations on thin connecting routes and has decades of experience. Despite its advantageous Mid Atlantic position TACV has never had any sort of international hub and spoke system to speak of in the Cape Verde islands though it did have one domestically.
Indeed Icelandair is only doing what TACV has itself considered but was prevented from doing so by its commitment to its native Cape Verdean population and the widespread diaspora in Europe and North America and by the state of its finances. As recently as Sep-2017 (even after the agreement was signed) TACV had to cancel all services for almost a week owing to a lack of operational aircraft. At that time it had only one functioning aircraft, an ageing Boeing 757, which had technical issues, and it was unable to source replacement aircraft or even an engine.
MAP - TACV's international schedule for the week commencing 13-Nov-2017 includes flights into Europe and across the Atlantic to Brazil and the United States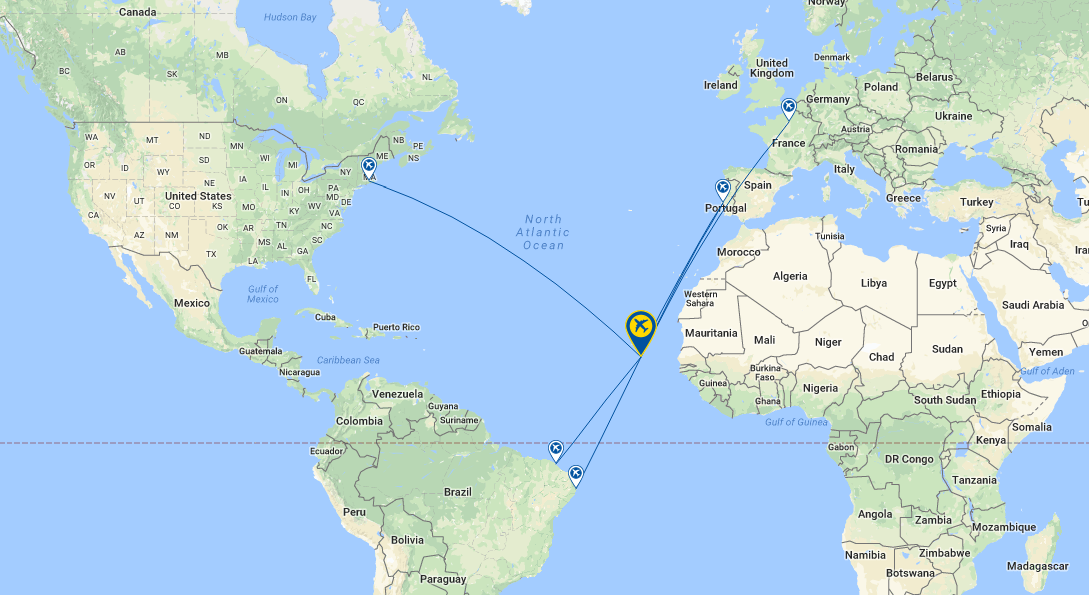 Source: CAPA - Centre for Aviation and OAG
In the domestic arena TACV operated the critical inter-island flights for decades with up to three ATR aircraft, even if it occasionally had to lease or otherwise bring in additional aircraft from other local carriers. Then, in Jul-2016, it signed a wet lease agreement with Binter Canarias, which then set up a subsidiary, Binter CV, to operate inter-island services for TACV with a single ATR-72. Clearly TACV's – and Cape Verde's - aviation enterprise has been reduced almost to zero.
Icelandair has a commitment to its own citizens and diaspora on its own patch equally but any attempt to put in place a commercial hub, anywhere, is usually not so much to their benefit as it is to those that are merely passing through. It has learned how to square the circle in Iceland itself, the population of which is actually 200,000 less than Cape Verde's.
Where would an air hub be in Cape Verde? For long, the airline's main airport was on Ilha do Sal, a thinly populated arid island, one of 10 in the group, which became a popular beach resort for Germans and Italians, with the British latterly in tow in big numbers. Sal's airport has the terminal facilities and a main runway which is long (3200m). In the 1960s it established its credentials as a transit airport when Aeroflot used it as a staging point between Moscow and Soviet-friendly Latin American countries such as Cuba and Venezuela.
MAP - Cape Verde is an archipelago of ten isles They're still fairly new to the travel circuit, but with their beaches and lively surf, they're quickly making a name for themselves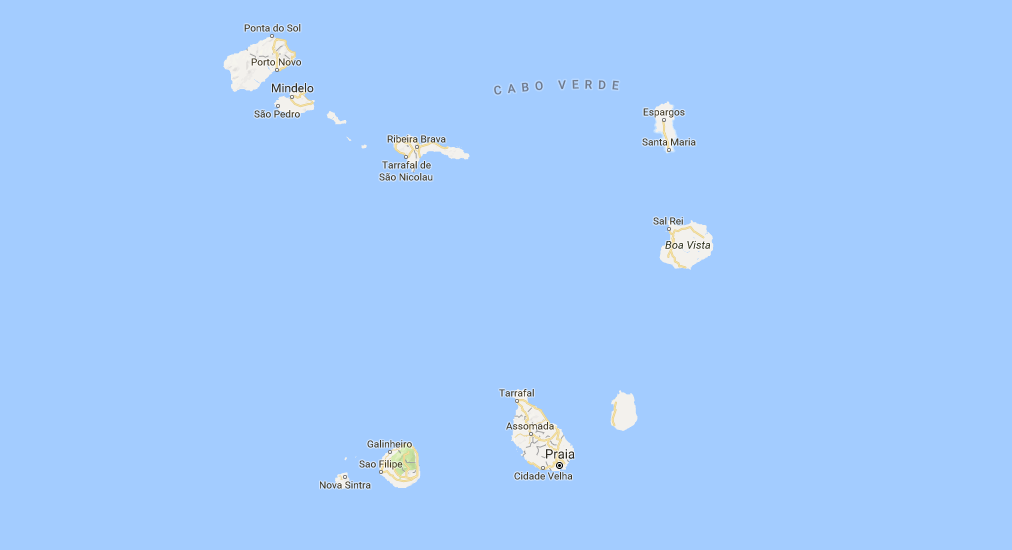 Source: Google Maps
But in 2005 a new airport was opened at Praia, the country's capital, on Santiago Island, about 3 km (two miles) from downtown. Since then that airport (named, almost anachronistically now after Nelson Mandela) has been catching Sal's Amilcar Cabral International Airport, with 523,000 passengers in 2016 versus Sal's 915,000. In the first nine months of 2017 the Praia airport grew at 29.8% against 18.8% at Sal.
Another airport has entered the equation, on Boa Vista, but that has grown dramatically strictly because of point-to-point vacation traffic only; it could not be a hub. It does not even have a proper roof. Ditto the airport serving the second city, Mindelo, on San Vicente Island.
The international commitment of TACV, for what it was latterly worth, was balanced in favour of the Praia airport, where it had six foreign city destinations compared to just one at Sal. On the other hand there are more airlines operating at Sal with which interline agreements could be made if the new airline chose to go down that route.
CHART - TACV is the second largest operator at Praia based on schedules for the week commencing 13-Nov-2017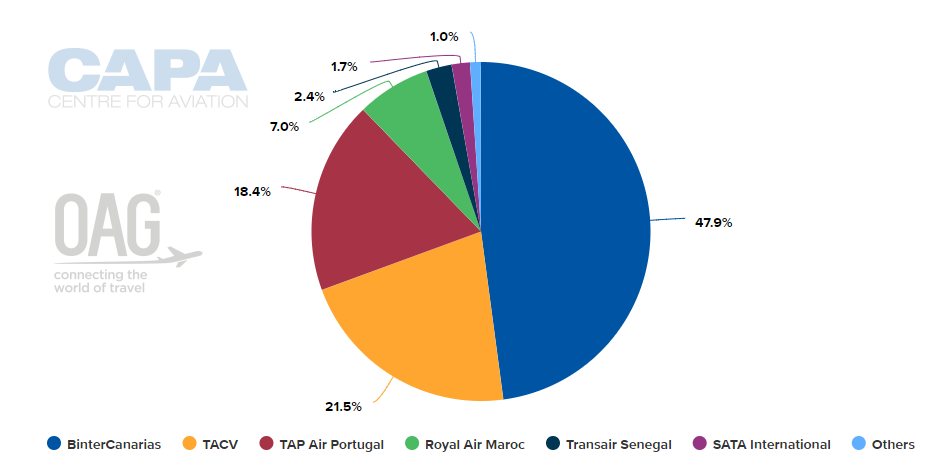 Source: CAPA - Centre for Aviation and OAG
TACV does not even get on to the chart at Sal, its capacity there is about half that of Thomas Cook Airlines. Moreover, the government would prefer Praia. That is where the government is, where the major airport investment has gone in, conference facilities built, and where any 'layover' passengers would have much more to see and do, to entice them back again.
The small amount of hubbing that TACV has previously engaged in, almost as a consequence of its point-to-point diaspora-generated operations, saw limited connections available between Europe and Latin America and even North America and Latin America or Africa, involving airports at Lisbon, Amsterdam, Paris, New York, Boston, Providence, Fortaleza, Recife and Dakar. But they were very infrequent, poorly promoted and subject to cancellation.
MAP - The Cape Verde archipelago is located in the Atlantic Ocean around 500 kilometres west of the coast of Senegal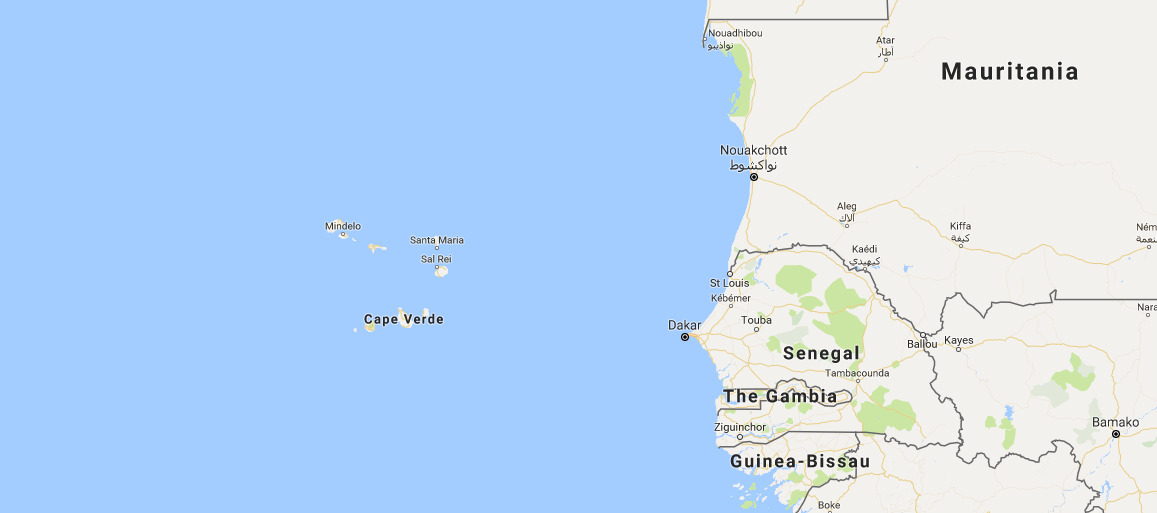 Source: GoogleMaps
That will simply not do for Icelandair, which has gained decades-worth experience of transatlantic hubbing connecting primary and secondary airports in Europe and North America through Keflavik Airport (though it has had its failures, such as Fort Lauderdale and San Francisco).
That experience will surely prompt the restructured TACV/Icelandair to focus on Europe-Latin American markets, which are served by airports like Madrid and Lisbon, but where there is still plenty of scope, for example in UK – Latin American services post-Brexit. Thereafter, North America – Africa, which would then form an X shape with Cape Verde at the fulcrum, a sort of miniature Dubai.
But the downside might be the loss of utility in those local and diaspora markets, leading to political resistance.