---
Summary:
An almost GBP500 million expansion is now under way to boost aircraft and passenger capacity at London City Airport;
New aircraft stands, passenger terminal facilities and a parallel taxiway will all be constructed as a deck' is built into the King George V Dock;
Traffic growth at London City has been solid but an expanded Heathrow with a new runway could limit its future traffic;
The delayed Elizabeth Line (Crossrail) could redefine London's ground transport, but despite passing 100m from the airport it will not stop at London City.
---
While that scheme met its Waterloo, recent developments at London City Airport, against which Mr Johnson displayed open hostility at times while in the Mayoral role, go some way towards defining that facility as the real estuary airport as a 'deck' is built into the King George V Dock to support new aircraft stands, passenger terminal facilities and a parallel taxiway.
But with the fast Crossrail/Queen Elizabeth line opening – belatedly – in autumn 2019, offering a rapid connection from both the old and new financial centres to Heathrow, the question is, does London City have the future it envisages?
Since its inception in the 1980s London City has changed hands from its original builder/owner, the UK construction company Mowlem, to an Irish entrepreneur, Dermot Desmond, to the Global Infrastructure Partners (GIP) private equity fund and eventually, in Feb-2016, to a consortium of pension and sovereign wealth funds led by Canada's Ontario Teachers Pension Plan. Money begets money and each sale has generated a huge and ever-growing profit, especially for Desmond and GIP and a sale price that this time topped GBP2 billion.
But if there was another sale, what would LCY be worth as an airport, rather than for its land? It is built in the middle of the fastest-developing area of the country for real estate as London shifts eastward again, and the video in this story clearly shows the apartment blocks that have been built right next to the runway.
In terms of traffic growth, it is doing well. From 2013 to 2016 passenger numbers increased steadily though they have plateaued in 2017 and 2018 year-to-date.
CHART - London City Airport saw particularly strong annual traffic increases between 2013 and 2015, but rates have slowed since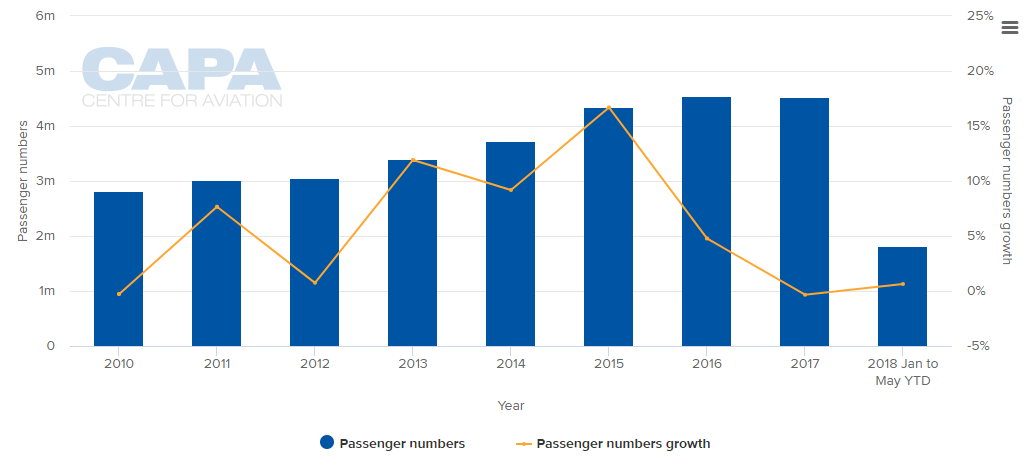 Source: CAPA - Centre for Aviation and London City Airport reports
There is a solid traffic mix too; with 77% of seat capacity being offered on full service carriers and half of all capacity under the British Airways brand. The national carrier recently announced it will expand operations at LCY with four additional Embraer 190 aircraft to join its based BA CityFlyer fleet during 2019, adding 20% additional capacity and enabling the launch of new routes.
That, plus the arrival of flag carriers Aer Lingus and LOT Polish Airlines, offsets the announcement by CityJet, the fourth largest LCY carrier (7%) that it will end all scheduled services under its own brand as it transitions to wet leasing services and the demise of part of VLM Airlines, a long time operator at the Docklands facility. We have also seen the resignation of London City's Chairman, Sir Terry Morgan, to work full time for HS2 the high-speed rail company.
This is quite a commitment for BA and it must generate confidence in the LCY management that its GBP480 million City Airport Development Programme (CADP) is justified. Construction of the first phase of the CADP is expected to conclude in 1H2020.
Returning to Mr Morgan's resignation, he was pivotal in getting the LCY CADP up and running but was criticised for retaining the role of Chairman of Crossrail as well. Why? Well partly because the two positions weren't singing from the same hymn sheet. Crossrail/Elizabeth Line will run very close to LCY – 100 metres in fact – but will not stop there.
MAP - London's new Elizabeth Line will provide direct connectivity from London Heathrow into London's key business and financial districts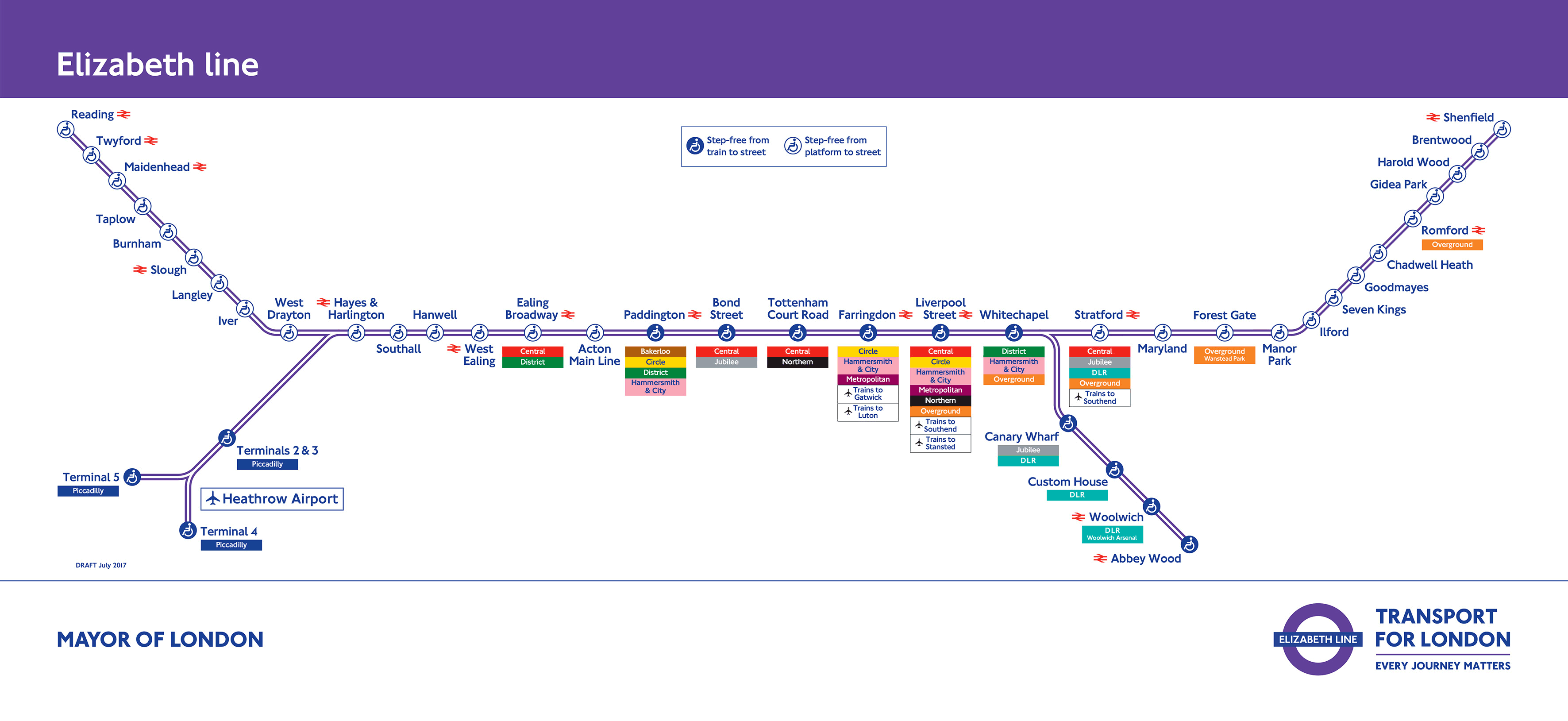 Source: Crossrail
There was a rail station close to LCY – Silvertown – about 200 yards away – which was instrumental in getting people to the airport in its early days when public transport options were poor. It closed in 2006 and while the airport is now linked to the Docklands Light Railway (DLR) a main rail link would be sensible, especially given the proximity of the Crossrail infrastructure.
A replacement station was not provided for in the Crossrail Act 2008 though one was envisaged to the east in the event of development of nearby properties. It has been proposed that LCY itself funds a station, probably costing around GBP50 million, but Transport for London requires a formal feasibility study so that progress on Crossrail, which is already behind schedule, would not be affected.
A rapid connection between LCY and Heathrow through central London and major suburban areas (and later to the North-South 'Crossrail 2 and the HS2 trunk line) would position LCY as a secondary, supporting airport for the business traffic the main gateway hosts while at the same time opening it up to increasing usage as a key access point to London in its own right.